Faster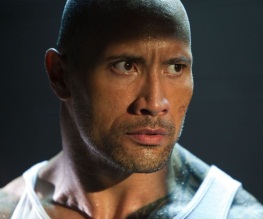 Faster begins with an impossibly muscled Dwayne 'The Rock' Johnson brooding in a prison cell. His character, known only as 'Driver', has spent the last 10 years inside for his part as, you guessed it, getaway driver in a bank robbery. Driver has served his time, however, and after a brief meeting with the governor is free to go about his business – a decision that everyone involved will probably live to regret as Driver's business is revenge. More specifically a violent and bloody revenge served 10 years cold to those who doubled-crossed him, left him for dead and brutally murdered his brother.
[FLOWPLAYER=http://uk.image-1.filmtrailer.com/53535.jpg|http://uk.clip-1.filmtrailer.com/5974_18842_a_5.flv,275,180]
Immediately upon release he acquires a car, an enormous handgun and a hit list before embarking on a candid killing spree, a spree that is conspicuous in its blundering disregard for things like CCTV, eye-witnesses and generally attracting police attention. Charged with capturing our brazen assassin is the unlikely duo of Billy Bob Thornton, a washed up, junkie cop on the cusp of retirement and Carla Gugino, a straight, by the book detective. Driver's less than subtle approach to justice doesn't just catch the attention of the police, however, and he soon finds himself also pursued by a hired assassin known only to the audience as 'Killer' (Jackson-Cohen).
The plot, as simple as it sounds, develops at a pace and is propped up by two solid performances from Johnson and Thornton. Johnson is well cast, although, admittedly, his is not the most demanding role – Driver is largely mute and necessarily quite 1-dimensional character, defined as he is by a vengeful and determined single-mindedness. Thornton, in a more demanding role, expertly portrays the sad and pitiful shadow of a former 'super cop', painfully fulfilling his final obligations to the force before finally fading meekly into retirement. Thornton's struggle with drugs, work and family-life provide a believable sub plot which offers a welcome change of pace to Driver's relentless, homicidal quest for retribution.
Contrastingly 'Killer' (Jackson-Cohen) is an absurd invention – a handsome playboy type figure who lives in the mountains with his beautiful girlfriend and chooses to risk his life as a hired killer to satisfy his own massive ego. Complete with James Bond style arsenal, there is something very fantastical and comic-book about this recreational assassin – something which clashes awkwardly with the rest of the production, particularly the dysfunctional realism portrayed in Thornton's character. Worse still are the clumsy and surely unnecessary attempts to give this ridiculous creation a human aspect through his pompous, angst-ridden whining. This could never succeed because, ultimately, his inner struggles are as absurd an unbelievable as he is, inspiring annoyance rather than empathy.
Despite Jackson-Cohen's character being about as smarmy and as irritating as they come, Johnson dropping a clanger or two towards the end, and some probably unnecessary Christian moralising, Faster remains a tense and entertaining throughout. While fans of The Rock who are looking for uncompromising, high-octane car-exploding action might be better off waiting for Fast Five, for the rest of us who enjoy a good plot-driven revenge thriller then Faster is well worth a look.
About The Author