G.I. Joe: Retaliation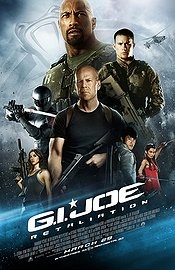 G.I. Joe: Retaliation picks up a few years after the events of G.I. Joe: Rise of Cobra. Channing Tatum returns as Captain 'Duke' Hauser, now the leader of the Joes and part of their elite team, together with Roadblock (Dwayne 'The Rock' Johnson), Lady Jaye (Adrianne Palicki), Flint (D.J. Cotrona) and Snake Eyes (Ray Park). You might remember that by the end of the first, Zartan (Arnold Vosloo) had managed to weasel his way into the White House through the use of nanotechnology which allowed him to impersonate the President of the United States (Jonathan Pryce). From his seat of power he conspires to discredit the Joes and break Cobra Commander (Luke Bracey) out of prison in order to fulfill their mission to dominate the world. After a brutal attack, the remaining few Joes turn to their former squad leader, the "original" G.I. Joe, General Joseph Colton (Bruce Willis), to discover why their government betrayed them and put a stop to COBRA's diabolical plan.
G.I. Joe: Rise of Cobra pushed the bounds of ridiculousness (to be fair, the cartoon series wasn't much better to begin with, COBRA possibly being the most inept evil organization on the plant and their Commander having all the menace of a chihuahua). In comparison G.I. Joe: Retaliation feels slightly more grounded in reality. Improbable accelerator suits are omitted to make room for a team of highly skilled individuals who come together to form a formidable force of ass-kickery. The premise is still completely absurd, the villain remains all kinds of preposterous but there is now a lot more of what I remember the Joes being all about.
G.I. Joe: Retaliation is a total blast to watch! It contains absolutely everything you love about action movies. Bikes that disassemble in to missiles, insects that blow up, ultra-cool (but more importantly completely possible) gadgets, rip-roaring tanks and a collection of guns that wet dreams are made of. Retaliation will surprise you with a great bit of humour, brought to you at the hands of Tatum and Johnson who have a brilliant rapport. If this had been harnessed to continue on till the end, it may have even elevated the movie into the realm of top-end action-comedies (think Lethal Weapon or Rush Hour). For those of you hankering for a bit of one-on-one, you will find plenty of sword-fights and gun-play to keep your attention. Snake Eyes (now sporting a redesigned mask sans those stupid lips, halleluiah!) and Storm Shadow bring the customary samurai flair while the last throw-down between The Rock and Stevenson will leave you momentarily slack-jawed. Jon M. Chu has done a quality job capturing the choreography, allowing you to really see all the finely-tuned action for a more intense experience.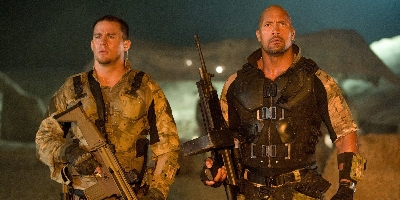 Now for the downers. The first 15 minutes includes a shocker of a moment that I would love to rant about but will refrain from doing so, so as to avoid ruining it for those of you still innocent (and also because it's not all that relevant to the rest of the plot). There is also a back-story revelation that just makes no freaking sense! It was obviously stuck in to explain shifting alliances but it does nothing to pave the way for future endeavours (and yes, you can bet your bottom dollar that Paramount will be back with a number 3 now that the Rock has effectively salvaged 2). Beyond these complaints, there is a general feeling of disjointedness to the script by Rhett Reese and Paul Wernick. There are (give or take) 3 major storylines taking place in a number of locations and even though they pull together by the end they never quite achieve a feeling cohesion or fluidity. Retaliation adopts a smaller global scope than The Rise of Cobra but it still manages to miss this crucial mark.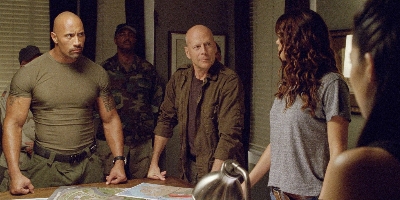 You'll remember myriad reports that held a 3D conversion accountable for the delay in the film's release date (you were meant to see it on June 29, 2012, but instead are only getting it now). There are moments at which the addition of this medium proves its worth. The scene in which Snake Eyes and Jinx cavort along the sides of cliff face battling a horde of baddies, is actually quite stunning. The sheer drop that is portrayed in 3D form is given a very lifelike depth, that can make you catch your breath and leave you feeling just a tad lightheaded. Then there are other times when your focus should be firmly on the background happenings but there is this one thing in the foreground (a bit of railing or a slip of pillar etc) that is just getting in your way. Ultimately, the 3D conversion doesn't do enough for the storyline or the action to warrant the money spent or the time delayed. Frankly, watching it in 2D might well save you this particular irritation.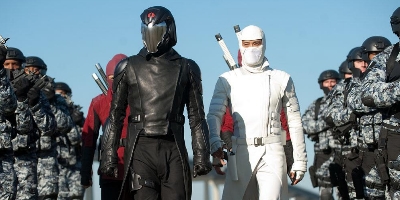 G.I. Joe: Retaliation is by no means a work of art. What it is, is a damn good time. There is some genuine laughter to be had here, along with a bounty of toys to ogle and plenty of action to keep you "Hoo-rah"ing all the way till the end. Ah, the Rock! You've done it again!
About The Author