Cloudy With A Chance Of Meatballs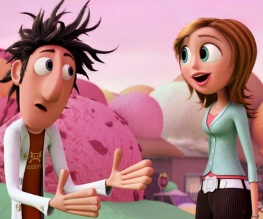 There's an interesting discussion to be had about kids films and the theme of excess. It's always the film studios most bent on world domination that seem to make kiddie flicks about the evils of excessive consumption. First Disney taught us all about the dangers of mega-power with Wall-E, now Sony shows us in Cloudy With a Chance of Meatballs the consequences  of greed. Do as I say, not as I do, indeed.
Moral questions aside, there is a whole lot to love in this delicious little film. The story follows a young failed inventor (voiced by Bill Hader), living in a town where the only food on offer is sardines-and not many of them.  He finally has a breakthrough with a machine that can make food fall from the sky, and, as you can imagine, hilarity, adventure, love and excitement ensue. Without giving the whole plot away, the story is engaging, original and perfect for your little ones- as long as they don't mind a bit of food based destruction. To be honest, the only real danger here is that they get some ideas for re-enactments back at home.
If I was to give any criticism of this film, it is that it seems to try and tick just a few too many boxes on the 'lessons for kids' checklist. Father-son relationships are healed, we learn not to change our appearance for others, a town comes together in crisis,  sardine based diet are exposed as unsatisfying-all of which are wonderful when taken as separate courses. However, mashed all together they leave you feeling a little full. The film lacks the subtle morality of-I hate to say it but its true- a Disney/Pixar classic, but that probably won't bother its target audience, kids with a penchant for out of control hotdogs. So, all of them then.
All in all, this is still a treat of film, especially for kids; funny, inventive and heart-warming. Go ready to lick your lips, keeping your tongue firmly in cheek.
Special Features
Flint's Food Fight Game
"Raining Sunshine" Music Video by iCarly's Miranda Cosgrove
Interactive "Raining Sunshine" Sing-a-long
Behind the Scenes of Miranda Cosgrove's "Raining Sunshine" Music Video
Directors' Commentary With Bill Hader
Key Ingredients: The Voices of Cloudy With a Chance of Meatballs
Progression Reels with Introductions by Visual Effects Supervisor Rob Bredow
Extended Scenes
Early Development Scenes
A Recipe for Success: The Making of Cloudy With a Chance of Meatballs
DVD-Rom Link to Exclusive Online Fun
About The Author