Brothers and Sisters – The Complete Third Season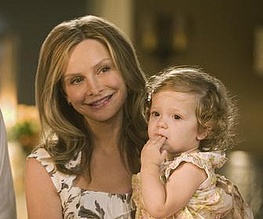 Calista Flockhart: Didn't she used to be hot property, many moons ago? Ally McBeal was, all told, pretty goddamn irritating. All that grating kookiness and a slappable cast made many a sane man grind his teeth to powder, but it sent Ms. Flockhart to at least a passable level of recognisability. After that, poof! Rien! Where did she go? Maybe she was in loads of stuff but was just turned to the camera in profile. We're not sure.
Yet here she is, resurrected in menopause-friendly ABC show Brothers and Sisters. The show concerns the life, loves and other such related guff of a well-to-do Los Angeles family, and also features The West Wing's Rob Lowe and the always reliable Sally Field. This is, in all honesty, melodramatic schlock of the highest order. There's so many extraneous plot twists it makes 24 look like Waiting for Godot, and they're shoehorned in in such a fashion that misfortune is piled upon unlikely misfortune for no other reason than plot expediency. But don't panic! There's plenty of time for us to all learn lessons about family life and how we can always rely on our siblings and other such anodyne pap.
Actually, the scene to scene writing isn't all that bad, and neither's the acting – it's just the ridiculous drama-ramping that's distancing and faintly unrealistic. The privileged central family, the Walkers, come across as an alright bunch though their wealth is as much as a barrier to likability as their repetitive tribulations. This might serve as a decent, last-minute Mother's Day gift if you're stuck, but otherwise this is pretty prescriptive drama for women of a certain age who've learnt to expect that little bit less.
Special Features
Commentaries
Deleted Scenes
Outtakes
Cast Interviews
Four Featurettes including reflections on motherhood and "Laughing With The Cast". Digital diabetes test not included.
About The Author