Michael McIntyre Live 2009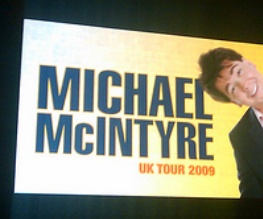 The lovely thing about Michael McIntyre is that he always seems genuinely excited when people laugh at his jokes. It's as if he's a bit worried they won't pan out as he planned, and is very relieved at the reaction he gets. Considering the immense success this man has achieved in a few short years, he has no reason to worry.
McIntyre had the fastest selling debut stand-up DVD ever with Live and Laughing in 2008, along with being the quickest-selling comedian at this year's Edinburgh Festival, packing out 26 consecutive nights.  In 2008, he won Best Headliner at the Chortle Awards and was nominated in the Best Live Stand-Up Performer category alongside Alan Carr and Russell Brand. Clearly, this man is getting something right. For established McIntyre lovers, this second DVD is just as much of a treat as his first. His trademark wonderful observational comedy is delivered to perfection with an exuberant energy that cheers the weariest of hearts.
Like many of the best comics, McIntyre is not universally adored. For many people we know, his relentless pace and posh plasticine grin cause headaches rather than belly laughs. Those whose favourite comics include Jack Dee and Frankie Boyle types, be warned- there's no deadpan sarcasm here. However, for those of you who rejoice in the silliness of Ross Noble or the brilliant observations of Eddie Izzard, this is something for you.
Special Features
Michael McIntyre's Comedy Roadshow
About The Author