I Saw the Devil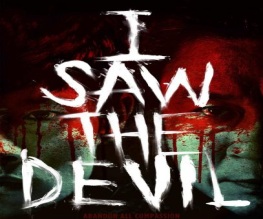 Kim Jee-woon, (A Tale of Two Sisters and The Good, The Bad, The Weird), has managed to create something that is horrific and disturbing yet utterly beautiful (Nietzsche would be proud). I Saw the Devil is the story of Kyung-chul (Choi Min-sik, Oldboy himself); a deeply disturbed individual who kills for pleasure, and Soo-hyun, an elite secret agent who gets caught up in his sick and twisted story.
On a dark, snowy night along a deserted back road (it's already chilling!) Kyung-chul comes across the beautiful Ju-yeon, a daughter of a retired police chief and fiancée of Soo-hyun, (Lee Byung-hyun). Alone in her car with a flat tyre she is ideal prey for Kyung-chul who makes no apologies for his passion. In a terrifically terrifying scene, much helped by the fantastic editing and lighting, Jyung-chul viciously attacks his helpless victim. He then drags her bloody body through the snow, takes her to his lair and chops her up into little pieces, (she has very red blood. Very red). This is the starting point of what will be an enduring memory in every viewers mind.
Ju-yeon's fiancée does not take the news very well (to be fair who would?) and vows to inflict the same pain on the Kyung-chul as he is experiencing. Taking two weeks off work and using all his kick-ass special agent skill he, essentially, hunts Kyung-chul. Smashing his head off rocks and stopping him from raping intermittently only to let him go again. But the old mantra rings true: in order to defeat the monster you must first become like him. It is clear that Soo-hyun is acting out of good intentions (in a way) while Kyung-chul is just pure evil but their actions are so similar that the line between them is blurred beyond recognition.
Kim Jee-woon does not want to do anything by halves in this one resulting in extremely graphic scenes of murder, rape and torture. The Korea Media Rating Board forced Kim Jee-woon to recut the film for its theatrical release due to the high levels of violent content. The original cut would have received a "Restricted" rating meaning that it would not be released in theatre or home video. Granting all this, and the sickly feeling in the pit of my stomach when it was over, the scenes that were allowed to remain seem to be integral to the story. The result is a powerful film that looks simply beautiful.
The lighting and cinematography are above and beyond what is required while the acting is just awesome. Choi Min-sik is petrifying in his role, he seems to have conjured up and tamed the Devil inside him and the mask does not waver throughout – an amazing performance. Lee Byung-hyun is a suitable counter for Choi Mun-sik giving as good as he gets in every scene.
This is not a movie for the faint of heart but if you have the stomach for it then it is well worth a watch. Dramatic, violent, beautiful and even funny in parts; I Saw the Devil will refuse to be forgotten.
About The Author