Lake Mungo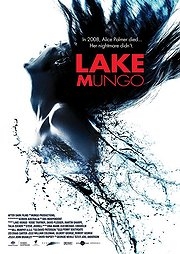 Sixteen-year-old Alice Palmer (Zucker) drowns while on an afternoon picnic with her family. Her untimely death brings with it far more than the expected grief and guilt, and soon after burying their daughter, the Palmers return home to face an otherworldly intrusion, the effects of which are both stirringly haunting, and vividly heartbreaking.
From the opening moments of Lake Mungo we are, via home video footage and family member narrations, provided with glimpses into the person of Alice, whose final moments are pieced together through a series of chillingly commonplace evening news clips. It is, however, the unknown life of Alice, her private existence and disturbing reality, which lend a supernatural cast to the proceedings. Strange noises and digitally documented, seemingly spectral apparitions, along with other equally inexplicable and troubling events centred in and around their home, begin to afflict the Palmers following Alice's burial. Convinced that these are signs of their daughter attempting to communicate from beyond the grave, the family seeks the help of a psychic, and together, the family and paranormal practitioner lift the veil of profound, morbid secrets under which the lost girl had been hiding.
What follows is an unnervingly real – and disturbingly familiar – account of one family's struggle to come to terms with the finality of death. Relationships are strained and tested, and the family household becomes a portal to the past, where old existences are seen in a new, stark light. The haunted element is not a scare tactic, but a symbolic framework inside which the Palmers examine their own personal reactions to the loss of a loved one.
Subdued, downplayed performances and the broad, intimidating stillness of the Australian bush create a poignantly painful picture with an uncertain landscape. Ultimately, while Alice's secret life and posthumous appearances by no means make her an exceptional ghost figure – she is any girl and every girl we know – somewhere in the tragedy lurks something we can't explain. Beyond the rational and the esoteric readings of the Palmers' haunting, their story touches on the unexplained outer limits of the human experience, with the power of the blood bond and familial ties being the most affecting, supernatural point of all.
About The Author