Merry Madagascar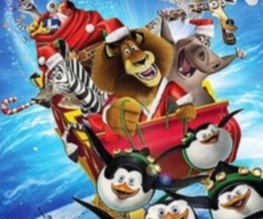 Christmas! The time for joy, joyousness, joyfulness and joyous abandon. Also of the quick-fix cash-in.
Originally broadcast as a TV special on NBC in the states, Merry Madagascar is about as shameless as it gets in the long line of trying to cash in on Christmas. It seems clear that some exec, sitting in an artfully underfurnished office somewhere in Los Angeles, simply looked at a balance sheet and saw that Madagascar 2: Escape to Africa had done quite well. "Heck, kids like this Madagascar schtick, kids like Christmas. Christmas Madagascar? Magic! Where's my bonus?"
The plot, such as it is, sees the animal escapees accidentally shooting down Santa's sleigh and having to deliver all his Christmas presents for him. It's as predictable as it is clichéd, with the characters doing nothing particularly interesting or funny. It's loud and zany, but in a wearying, rather than an energetic, way. Even smaller kids, usually pretty easy to distract with anything colourful and christmassy, will be fidgiting around the twenty minute mark (it's a rather measly thirty minutes in length). There's not really enough of a plot or enough jokes to carry the whole thing forward, and the whole thing goes staler than a sprout on New Year's Eve.
One bonus here is the cast – the stars of the original films have all got back together to voice their characters, though goodness knows why. Still, it's not every day that your straight-to-DVD purchase can boast the vocal talents of Ben Stiller, Chris Rock and, umm… David Schwimmer. It's a novel feeling that lasts well into your walk to the car park. But talented comics or not, the cast can only do so much with a lacklustre, lazy script, though it's clear they're trying.
Merry Madagascar (heck, even the title's dumb) ostensibly sells itself as a family film. The fact is there's plenty of other Christmas films out there, and whether they're there to keep nippers quiet for an hour or genuinely present themselves as something the whole family can enjoy, there are far better choices than this cynical, rather weasly release.
Special Features
Dreamworks Animation Video Jukebox
About The Author