Nosferatu the Vampyre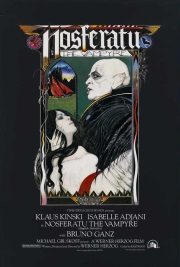 KITTENS! BLOODY KITTENS! TWO OF THEM! PLAYING WITH AN AMULET! OH GOSH LOOK AT HOW ADORABLE THEY ARE, THEY'RE LITERALLY PAWING AT THE AMULET WITH UNBRIDLED GLEE! WHAT IS THE AMULET? NO TIME TO EXPLAIN. KITTENS. KITTENS. KITTENS!!!
Werner Herzog's Nosferatu The Vampyre starts in less than fearsome circumstances, as my opening gambit of madcap kitten-fetishizing may have alluded to (legit though, genuinely two kittens in the first couple minutes). Then again, Herzog's not the kind of director to bow to convention, not least generic convention, even when he's taking on a character ingrained into the history of German cinema, consciously paying homage to one of Germany's finest director, F.W. Murnau, as part of the re-legitimization of German cinema in the post-war period.
The story is the one we all know. Jonathan Harker is an estate agent in Germany, sent up to visit some dead spooky mountains to meet a potential buyer – twist, the buyer is Count Dracula…yeah, him. Not one to be deterred, Harker hot-foots it up the the mountains, leaving his wife and the two aforementioned adorable kittens behind. Bad news man. Never leave the kittens behind.
In many ways Herzog's directorial quirks are well suited to the genre – at all times he's working to probe the viewer, to stop him from being at ease with what he's watching. Little thing. There are very few establishing shots across the film, for example, so we are thrown from location to location without ever really getting comfortable with where we are. Across the film the colour palette is washed out, almost ghost-like, implicitly echoing the fog-covered mountains that Count Dracula calls his home – indeed, the scene where we see the fog break to reveal the mountains for the first time is typical Herzog. Think Aguirre. Think Cobra Verde. Think Heart of Glass. Scenes aren't heavily edited either, the action plays out before us slowly, the tension and overwhelming fear – and indeed, this is a frightening film – not coming from dramatic strings or lurking shadows, but rather a deep sense of foreboding, of dread, the majority of this created by Klaus Kinski's magnificent performance as The Count.
This is Kinski's finest performance in a Herzog film, and that is no mean feat. He is brilliantly restrained, almost sickly in his mannerisms, but with a madness lurking just beneath the surface. When he first sits down to eat with Harker, and when Harker draws blood, his eyes betray a mixture of desperation, lust and defeat. Many of the standout scenes come whilst Harker is at the castle, particularly when he is trying to escape, running from staircase to staircase finding only locked doors, like he's trapped in an Escher etching, which only adds to the film's strangeness.
Herzog is a peerless director and his visual style is superbly exemplified in this film, resurrected further in this new restoration as part of the BFI's Gothic Season. I despair on the state of modern horror for the most part; far too slick, far too reliant on manipulative visual cues to get a cheap jump, rather than building tension or creating characters. The best horrors don't make you jump, they make you feel horrible, and that's what Herzog does here. So this Halloween, why not find a loved one, get the popcorn in, sit in a cinema and feel utterly revolting, courtesy of Werner Herzog and Klaus Kinski's mental fingernails. Also tonnes and tonnes of rats. If that doesn't sell it, need I remind you about the kittens? Though they don't come back. I guess Dracula eats them whole or something. Seems like the kinda thing he'd do. What a bastard.
About The Author