Nuts In May: DVD Review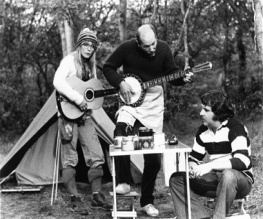 Some of Mike Leigh's best work was written for the television, and here at Best For Film our favourite of his starkly funny TV plays is the deliciously awkward Nuts in May. Telling the story of a self-righteously priggish couple and their misadventures on a camping holiday, it holds a wickedly accurate mirror up to the neighbourly squabbles with which we are all familiar.
"Shall I show Ray my collection of pebbles?"
The year is 1976, and neurotic authoritarian Keith (Sloman) has packed up his Morris Minor for an educational trip to Dorset with the childlike Candice-Marie (Steadman). The couple, whose relationship is apparently platonic and has an unnerving father-daughter dynamic, pitch their tent and begin an action-packed week of coastal walks, quarry visits and weather measurement with Keith's special devices.
However, disaster strikes when Ray, a distinctly scruffy student from Cardiff, sets up camp nearby and – shock! – produces a radio. This is only the first in a series of upsets which threaten Keith's rigid schedule and Candice-Marie's detached composure – the clean-living, vegetarian pair are subjected to visits from other campers who smoke, drink and disregard the Country Code, transgressions which eventually press poor Keith past the boundaries of his endurance.
What do you get when you cross a hippy with a biker? A hilarious mess.
Nuts in May is beautifully shot and well paced, but its crowning glory is the quality of the main characters. Keith, the ultra-liberal hippy who harbours a deeply conservative streak, is as contradictory and inflammatory figure as you're ever likely to see, whilst Candice-Marie's infantile whinings are compulsive viewing regardless of how much she irritates. Whilst he lacks the self-assuredness of Keith and Candice-Marie's high morals, Ray is a far more grounded and sensible character than either of them, and the grimy Brummie bikers who spark Keith's superbly deranged climax are just fun-loving and happy to get into the spirit of things.
Blending caricature with real life until you don't know whether to laugh or wince, Nuts in May is a film as beautifully pitched as Keith's pristine tent. It's a real treat.
What did you think of Nuts in May? Let us know!
About The Author