Snow White and The Seven Dwarfs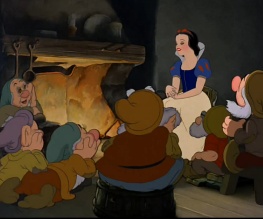 "Mirror Mirror on the wall, who is the fairest of them all?" It's still Snow White of course. The infamous pasty princess of Disney is back in the 2009 digitally re-mastered release of Snow White and the Seven Dwarfs – Disney's very first feature length film. It marks the celebration of almost a century of love for this timeless classic. A tale of a beautiful princess, her wicked stepmother and a breathtakingly handsome prince. And the best part? Seven mini-men to help restore peace – Doc, Sneezy, Grumpy, Happy, Bashful, Sleepy and Dopey.
When Snow White is cast out of the castle to be killed by her evil and jealous stepmother the queen, she finds refuge in the forest. There, she charms all the creatures and befriends the seven dwarfs. When the queen discovers that Snow White still lives, she crafts a cunning plan and tricks Snow into eating a poisoned apple. Only true love's kiss can bring Snow back – cue a handsome prince and a happy ending.
When it comes to Disney, we might already know every story but the beauty of them is that they never lose their novelty. Like all of the great Disney classics, Snow White also has a sing-along soundtrack with songs such as "Whistle While You Work" and "Heigh Ho". It might be over seventy years old but even a new audience of children will be enchanted by the story, whilst older Disney admirers will reminisce on their own youth. After all, as they sang in the original edition, "You're Never Too Old To Be Young"…
Special Features:
Disc 1:
Bonus Audio Commentary with Walt Disney
Disc2 :
"Snow White Returns"
The One That Started It All
"The Princess and the Frog" Sneak Peek
"Someday My Prince Will Come" by Tiffany Thornton
Dylan & Cole Sprouse: Blu-ray Is Suite!
Learn How to Take Your Favourite Movies On The Go [DisneyFile]
About The Author