Star Trek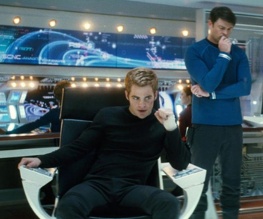 We need to be honest with you… we're nerds – pocket protector owning, corduroy wearing, Windows 3.1 loving nerds and have been long before it became quasi-cool (thanks Pharrell). While our playground peers were debating The Ultimate Warrior and Hulk Hogan, we were having deep discussions about phasers, warp drives and why Captain Kirk would make the best dad ever. This makes us the worst type of nerds – Star Trek nerds. And while we've never gone to a convention, it didn't stop us pestering our mother's in to making us a Federation captain's uniform out of a knitted yellow jumper, some kitchen foil and a carefully cut egg carton. Hence you can only imagine our trepidation at the prospect of the Mr. Mission Impossible 3 J.J. Abram's, reboot – but we and our fellow geeks needn't have worried.
For those of you who've spent the last year on a Class-M planet without transporter capabilities, Abram's Star Trek re-imagines the original series. Thanks to a temporal incident the story of how James Tiberius Kirk (Chris Pine) becomes captain of the Enterprise changes. As does his character; to a rebellious youth whose father was killed in action and is headed nowhere fast. After accepting Captain Pike's (an appearance that's just one of the insider gems for the serious trekkies) offer to join Star Fleet he meets and instantly begins a rivalry with Spock (Zacharay Quinto), an instructor at the academy. Before things can get really ugly, the cadets must answer a distress call from Vulcan who are under attack by renegade Romulan Nero (Eric Bana) – the cause of the temporal incident. Without giving away more of the story, what follows is a sequence of events that finally culminate in Kirk becoming captain of the Enterprise, putting aside his rivalry with Spock and them saving the day.
Let's get one thing straight, it's true this is not your parent's Star Trek, it's not even the Star Trek of the late 80's with Patrick Stewart 'making it so'. What Abram's has managed to do is update the essence of the original series and of its characters for today's audience. Who, let's face it, are more comfortable with the gritty realism of the recent Battlestar Galactica series than the hammed up campiness of Buck Rodgers in the 25th Century. But where the director's greatest success lies is in his casting, with each of the leads harnessing their character's unique traits without resorting to simple impersonations. Special mentions go to Karl Urban's Bones, Quinto's Spock and Pine's Kirk – each bringing freshness yet familiarity to their performances.
Star Trek has enough action and drama to appeal to fans and non fans alike plus completely satisfy this nerd's thirst for final frontier action. So fellow nerds, no longer do we have to hide our love of the Trek, J.J. has made it cool again. Rise up, storm the cinemas and watch with no shame – the time of the nerd has come!
Special Features
Commentary by Director J.J. Abrams, Writers Robert Orci and Alex Kurtzman, Producer Damon Lindelof and Executive Producer Brian Burk
Gag Reel
Digital Copy of Film
Deleted Scenes with Optional Commentary
Featurettes – A New Vision, To Boldly Go, Casting, Aliens, Score
DVD-ROM – Star Trek Free Trial Game for Xbox 360, Weblink to Star Trek Free Trial Games for PC and Playstation
About The Author