Stoker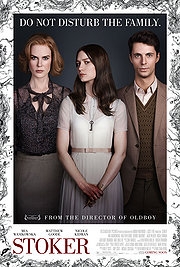 Park Chan-wook is famed for his explicitly violent horror films (Oldboy), therefore when he announced he was making his first English-language film, and that it would be a coming-of-age tale starring Mia Wasikowska and Nicole Kidman, there was a lot of speculation about what kind of film Stoker would turn out to be. The result is a beautiful mixture of east meets west, with stylistic flourishes, a smattering of blood and some great acting to boot. Stoker is the perfect introduction to his work for newcomers and a delight for his American fans too.
We are introduced to 18 year-old India (Wasikowska) at the funeral of her father, who died in a car accident. Her mother Evelyn (Kidman) sits beside her, crying, but India is distracted by the figure of a strange man in the distance. She meets the man later at the wake, who she is told is her uncle Charlie (Matthew Goode), whom she has never met before. Charlie moves into the family house and gets closer to Evelyn, but there is a beguiling presence to Charlie that mystifies India and as she finds out more about his hidden past, she grows more distrustful of him.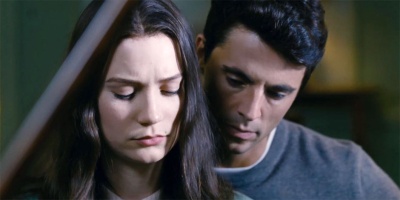 The film is stunning to look at, filled with flashes of colour to catch the eye and impressive (yet unobtrusive) special effects. Our main focus is the drama, but you can't help being drawn to the details; strands of hair seamlessly turning into blades of grass or a perfectly formed puff of smoke.
But it is not just the lush visuals that draw you in. The script by Wentworth Miller, whose only previous writing credits are for Prison Break, is an unexpected hit, despite the scarcity of shocks and the peculiarity of the plot. Written under a pseudonym, the screenplay was placed on the Hollywood 'Black List' in 2010, and was untouched by directors due to its unusual nature, and its minimal dialogue. Miller said that he was influenced by Bram Stoker's Dracula, but was equally inspired by Hitchcock's Shadow of a Doubt, which he described as his 'jumping off point'. Packed with literary and film references, detailing everything from Hamlet to Del Toro, Miller ensures we are constantly between intrigue and awe. Musically too, a suspenseful soundtrack by Clint Mansell (Requiem for a Dream) packs a punch.
Stoker has been described as a Gothic fairytale, and in some respects this is true, particularly in its styling. There is a touch of the Addams family in the Stokers, who dress as if they are from another time, and act strangely when they interact with the outside world. Added with the setting of their house; a bare old mansion, there is an eerie atmosphere that lends an ominous feel to the film.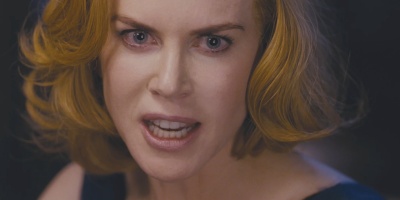 Mia Wasikowska is the perfect fit for India, putting her experience on Alice in Wonderland to good use as she plays the part with a childish curiosity. Her icy blue eyes, black hair and white skin make her look like Wednesday Addams, but her styling (all tea dresses and cardigans) gives her a more ladylike look. Her transition from moody teenage girl into a young woman is central to the film, and she plays it with maturity and grace. Nicole Kidman's beady eyes are her biggest acting tool here, unfortunately, and the same goes for Matthew Goode, who although makes a handsome mystery man, is overwhelmed by his orangey tan, which looks luminous next to the ghostly white of the Stokers.
Despite being a bit of an unexpected film from Park, his dark wit is still present in Stoker and his stamp can be seen in the revelatory finale, truly typical of his blood-drenched repertoire. This is essentially a horror film with artistic sentiment, but blends drama, psychological thriller and coming-of-age drama. Stoker is an original response to the horror genre and we can see why it has been so hotly anticipated; it deserves it.
About The Author