Withnail & I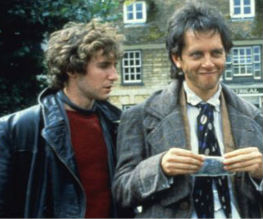 In this 1986 cult comedy, unemployed actors Withnail (Richard E. Grant) and "I" (Paul McGann) escape their 1960s Camden flat for a much-needed holiday in the countryside. However they soon discover that country life is just as, if not more stressful than living in London.
"We are indeed drifting into the arena of the unwell"
Withnail convinces his Uncle Monty (Richard Griffiths) to lend them his cottage in Cumbria and he and I (who is actually never named in the film) head off there in I's battered Jaguar Mark 2. The cottage is run down, cold and devoid of any food, and it's not long before our heroes are falling foul of all manner of misadventures, including offending an angry poacher, trying to kill a chicken so they can have it for dinner ("how do we make it die?"), and avoiding the lecherous advances of the spectacularly gay Uncle Monty.
With a script packed full of memorable quotes ("We want the finest wines available to humanity! We want them here and we want them now!") and hilarious performances from the three main actors (Richard E. Grant is particularly superb as the flamboyantly drunken Withnail) this film is still regarded by film-lovers and reviewers alike as a classic. However it is its alcoholic content that has helped this film achieve the legendary cult status it enjoys amongst students, slackers and booze-lovers worldwide.
"I must have some booze. I demand to have some booze!"
Throughout the film the characters down an extraordinary number of alcoholic drinks, and a popular drinking game has arisen amongst Withnail fans, whereby you have to keep up drink for drink with Withnail, I and Uncle Monty. However, common sense dictates that a substitute drink may be used in place of the bottle of lighter fluid Withnail drinks – unless you're a really hardcore fan, of course.
While a little slow in places compared to most modern comedies, Withnail & I is still a brilliantly watchable film, whether sober or fabulously drunk. If you like American movies full of slapstick and over-the-top zany antics this may not be your cup of tea, but if you're looking for a dark, intelligent film that's both very British and utterly hilarious, you could do a lot worse than Withnail & I.
About The Author