Yes Man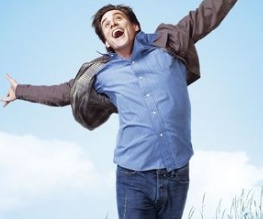 Yes Man is basically Peyton Reed's (Down With Love) version of Liar Liar and, of course, it stars none other Jim Carrey as the leading man. Carl Allen (Carrey) a miserable banker notorious for saying "no" to everyone and everything. In a plight to change his life, he signs up to a self-help programme which enforces one rule – he must say 'yes' to everything. EVERYTHING.
From spam e-mails, sex with old ladies – Carrey's character is unable to refuse anything. In turn, his life goes full circle and from being a miserable meany he becomes the embodiment of positivity. He begins dating the quirky and cute Allison (Zooey Deschanel), creates a close bond with his boss played by Rhys Darby (whose performance as the gormless bank manager almost outshines Carrey) and finds happiness to replace humourless misery. It's pretty much what we're normally accustomed to from Carrey – victim of his own actions, turns good guy, gets the girl and life is great. One noticeable thing is that it seems he's finally realised his over-animated physical expressions are better toned down; consequently he looks a lot less 'human cartoon' in this film. There are some sporadic funny moments but the plot and the acting are predictable. Towards the end, you can't help but breathe a sigh of relief, and wonder why you said 'yes' to watching it in the first place.
Special Features
Down Time on the Set of Yes Man: Jim Carrey improvs with the cast, crew, and Director Peyton Reed.
Extreme Yes Man: Outrageous stunts
Gag Reel
Exclusive "Munchausen by Proxy" Music Videos. Five full-length music videos showcasing the musical talents of Zooey Deschanel and the Von Iva band.
Future Sounds: Munchausen by Proxy: Explore the unlikely story behind the formation of Allison's band, Munchausen By Proxy, from the real San Francisco-based band Von Iva.
About The Author