Monsters University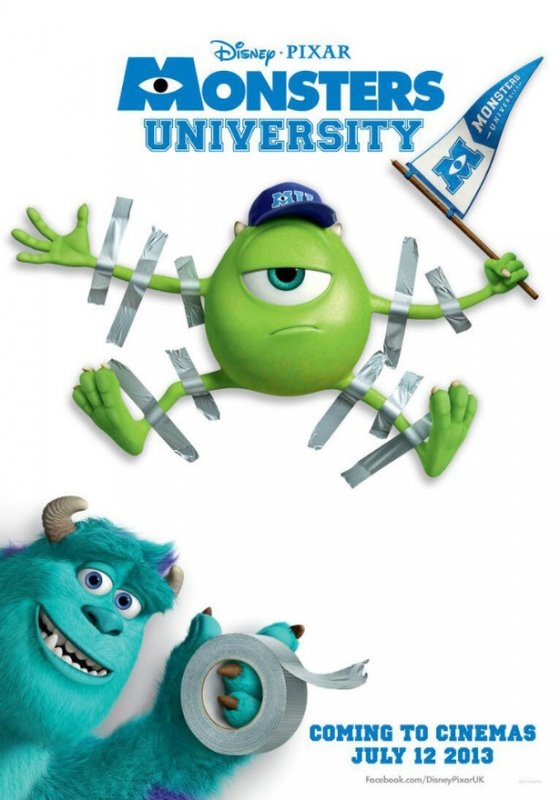 In 2001, Pixar took us behind the scenes to reveal the truth about those monsters in our closets. Central to the success of this story was the relationship between best friends Mike Wazowski (voiced by Billy Crystal) and James P. Sullivan (brought to life by John Goodman). It is to this steadfast friendship that we return in Monsters University, rewinding back in time to see just how the inseparable duo came to be.
Getting the thumbs up from a big time scarer gives a six year old Mike all the motivation necessary to one day be just like him. His hard work pays off when eleven years later he is admitted to the illustrious Monsters University as a scare major. Problem is all the hard work, perseverance and ambition can't alter the fact that our little rotund friend has come up a little short in the scary-looking stakes. Sulley, on the other hand, not only looks the part but comes from a long line of well known scarers, a fact he regularly uses to his advantage to get all the glory but do none of the work. The duo's rivalry eventually leads to the accidental destruction of Dean Hardscrabble's (Helen Mirren) most prized possession, getting them kicked out of the program and desperate for a second chance. Mike's never quit attitude sees them joining the misfit fraternity of Oozma Kappa in order to take part in the Scare Games and prove once and for all that he has what it takes to be the best scarer on campus.
Monsters University is really Mike's story and actually, it's a pretty great one. Yes, the usual "work hard", "never give up" and "strive for your dreams" catch phrases are present, but there is also this notion of coming to terms with who you really are, recognizing your strengths and playing to them. The usual elements of the underdog story seem intact but what Pixar has ingeniously done is ground their message in whole lot of reality. There is no final hail-mary pass that saves the day and returns our characters to their promised glory. The consequences of choices don't just vanish because you might have learnt your lesson. Instead there's this underlying idea that while your future may not turn out to be exactly as you may have pictured it, the reality can work out to be so much better if you just leave yourself open to it.
By now, Pixar productions have a certain expectation attached to them and you will not be disappointed by their latest creation. Watching Monsters University is a real treat for your inner child. From start to finish it is simply bubbling with imagination – and the reimagining of the university environment is just as much fun as the plethora of monsters. While the kids stay entertained by all the vibrant colour and innocent slapstick, adults will get a kick out of seeing their experiences from a monster's point of view. Monsters University can't help but draw you in but when it does it holds on tight with characters that you can't help but connect with. This may be Mike's show but that doesn't mean that the supporting cast has been left with nothing. Each of the misfits have their moment to shine, all adding up to a finale that is believable and ultimately quite fulfilling.
In a time when it seems like the world is just a tad too obsessed with fame and unconcerned with substance, Monsters University arrives to validate the concept of being yourself and working with what you got. The storyline is entertaining enough without being complicated, the monsters are lovable without losing their scare factor and the message is heart-warming without becoming overbearing. If you're allergic to the warm and fuzzies, give it a miss, but if you rather like that feel good feeling make your way over to Monsters University.
About The Author