Nebraska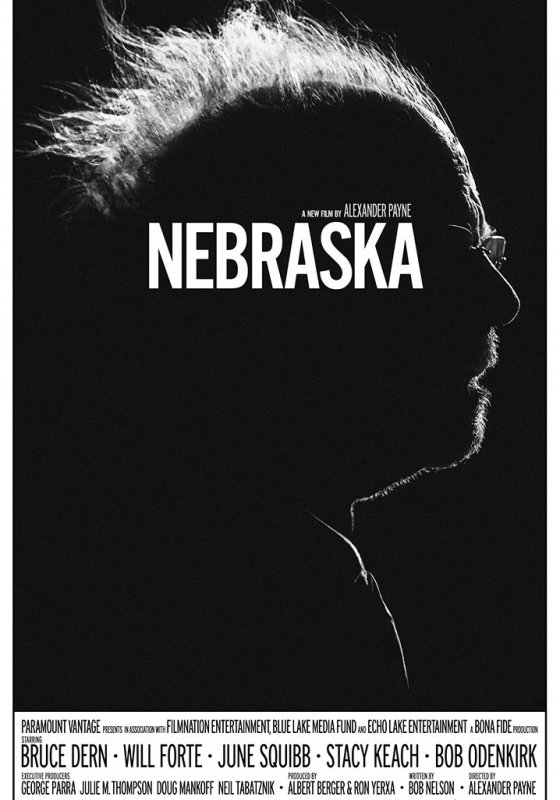 Having received a letter in the post inviting him to Nebraska to collect $1 million in prize money, Woody Grant (Bruce Dern) is forced to set off from Billings, Montana on foot when his skeptical wife Kate (June Squibb) refuses to drive him. Youngest son David (Will Forte) receives a call at work summoning him to the police station to pick up his father. After several other episodes like it, David eventually agrees — against his better judgement — to drive his dad to Nebraska before the offer expires. Along the way they stop at Bruce's home town of Hawthorne where Kate and brother Ross (Bob Odenkirk) travel out to join them for dinner with the extended family.
Originally linked with Alexander Payne before he had started work on The Descendants, Nebraska was put on the back-burner for a few years to put some distance between it and the director's previous road movie Sideways. Apart from the obvious surface similarities, however, Nebraska bears little resemblance to its forebear, perhaps because Payne is here directing from someone else's script. Whereas Sideways was a film about two colourful wine enthusiasts on something of a niche adventure, Nebraska is a decidedly more black and white (and forward) representation of small-town American life.
Bruce Dern stars as Woody, a retiree and borderline alcoholic who pines for a new truck despite the fact that he can no longer drive. With his wispy white hair and semi-vacant expression, Woody has a confused air that may or may be symptomatic of dementia. It's an incredibly nuanced performance, and one that impresses without ever drawing attention to itself. Indeed, aside from Squibb, who steals every scene she is in as the Grant's resident realist, none of the characters particularly stand out. Rather, the actors underplay their roles, letting the relationships written into the script speak for themselves. Will Forte is quietly compelling as David, and his attempts to reconnect with his father are all the more affecting for the simple sincerity of his gestures.
Just as the characters grow organically from Bob Nelson's screenplay so too does the humour. You never feel the cogs grinding away in pursuit of melodrama and you're never aware of jokes being set up in the background; instead, Payne finds absurdity in the everyday, and Nebraska feels unusually familiar and relatable as a result. There is a scene set at a graveyard in Hawthorne that is particularly memorable, with Kate tearing into every expired member of Woody's family. The scene never feels uncomfortable or callous, however, because beneath the wry humour and low-key realism there is a warmth and (generally unspoken) love that undercuts everything.
Nebraska may not seem like an obvious choice of Christmas movie, but in a year conspicuously lacking in festive fare it makes for a surprisingly fitting substitute. Alexander Payne's latest is ultimately a film about family, faith and gift-giving, and though it's not exactly sentimental it still leaves you in a pretty good place for the holidays.
This review was originally published on my personal blog, Popcorn Addiction.
About The Author