Red Dawn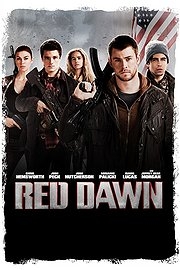 So after over a decade of worsening economic crisis and superfluous troop deployment, the U.S. find themselves in a state of vulnerability. A militant North Korea and ultra-nationalist Russia come to combine forces so as to make the most of this advantage over their age-old enemy.
Cut-to Spokane, Washington, where Jed (a role Chris Hemsworth took on before he became popularly known as Thor) is on shore leave visiting his father Police Sergeant Tom Eckert (Brett Cullen) and his jock brother Matt (Josh Peck). After a night of power outage, they wake up to discover transport aircrafts littering the sky with paratroopers. On the instruction of their father, the Eckhart boys furiously drive out to their cabin in the woods, gathering Robert Kitner (Josh Hutcherson), Daryl Jenkins (Connor Cruise) and a couple of other characters (who you KNOW are going to die before the end) along the way. They soon find out that the invading army is that of North Korea, under the rather mild-mannered command of Captain Cho (Will Yun Lee), and decide that no one messes with them in their own backyard. The motley crew of teenagers band together to carry out a campaign of guerrilla warfare against these unwanted occupiers.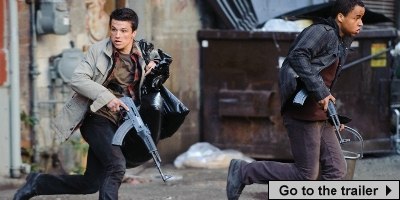 The original Red Dawn was a gritty, Lord of the Flies-esque look at war, focusing on the effects of loss and violence on the individual. The Guinness Book of Records named it the most violent film of that year for its rate of 134 acts of violence per hour and it was the first motion picture to be released with a PG-13 certificate. The remake of 2012 will probably not even register on the shock scale of today's audience, who were born and bred on a diet of 1980s action flicks. The first Red Dawn saw the feature film debut of Charlie Sheen and was 3 years before Dirty Dancing shot Patrick Swayze and Jennifer Grey to pop-cult stardom. In comparison, the second attempt is choc-a-blocked with names that have already risen to fame through some recent blockbuster: tweens will flock to see their Hunger Games star Josh Hutcherson while Chris Hemsworth will look slightly out of place without his hammer from Thor. The script of 1984's Red Dawn was based on a study conducted by the CIA and War College concerning the weaknesses of the U.S. at the time. The making of 2012's Red Dawn was based on the simple wish to cash-in on the rash of remakes flooding the industry.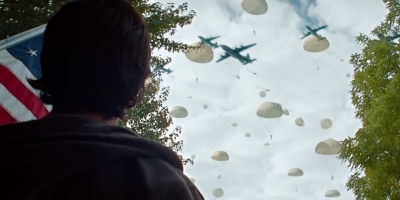 From the get-go Red Dawn, circa 2012, comes off as a bit of a joke. Given the U.S.A.'s history of deploying troops (for one 'official' reason or another), the premise of them valiantly fighting off their own invasion feels a tad hypocritical. The movie itself seems aware of this, with the line "When I was overseas, we were the good guys. We enforced order. Well, now we're the bad guys. We create chaos." sounding like one part flimsy justification and one part pointed sarcasm. As an action flick, however, it certainly holds up, providing fast-paced chase sequences and well-orchestrated gun play that will keep you entertained for most of its 93 minute length. There is some attempt at depth with the inclusion of a rather basic familial conflict (that gets resolved half-way through in under a minute) and a smattering of love interests that turn out to be either inconsequential or unnecessary. Suspend disbelief, put politics aside and Red Dawn just might be enjoyable enough to peruse one lazy Friday night.
Based solely on his height and bulk, Chris Hemsworth fills out his role as the stoic U.S. Marine, Jed Eckhart, perfectly well. There's no real heavy-duty acting required here, just the necessity to look tough and capable of bringing the grunt. Josh Peck plays his improbable brother and, as long as you can overlook that constant look of constipation, he'll do a passable job. Josh Hutcherson severely alters C. Thomas Howell's interpretation of a hardened and brutal Robert by doing what he does best and playing him as forever-sweet gentleman. Lea Thompson and Jennifer Gray brought a sense of vulnerability and loss of innocence to their roles as the original Erica and Toni. Isabel Lucas and Adrianne Palicki, on the other hand, have employed no such skills, being perfectly happy to just supply the pretty. In 1984, we watched the characters of Red Dawn suffer as they survived a hard winter, fumbled through their first kills and dealt with the general pain, grief, frustration and fear in their lives. In 2012, these same characters were given a much softer ride, with occasional feasts of Subway, a regular charge for their phones and only the missing of Call of Duty: Modern Warfare to bear.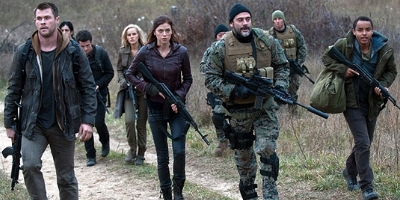 Red Dawn has had a checkered past, originally scheduled for release on the 24th of November, 2010, before being shelved due to financial trouble. Two years later it hits our screens, most probably with the hope that it will fill seats on the sole strength of its stars. You will probably roll your eyes as the plot, maybe even yawn during the 'acting' but in the end the action will keep you watching.
About The Author