Reincarnated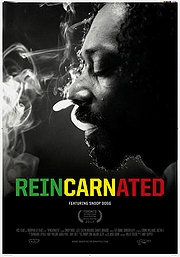 Snoop Dogg, or rather Snoop Lion, is having a bit of a midlife crisis – that or he's struck musical gold. It's hard to tell with Reincarnated, a documentary that follows the veteran rapper on his month-long journey to Jamaica in order to find himself. At 40 years old, he tells us, Snoop is tired of the guns, girls and pimping. Now he is all about peace, love and the struggle. He doesn't want to rap anymore, he wants to sing with a slightly affected Jamaican twang. Where better to undergo his make over from Californian gang-banger to Rastafarian messenger of peace than Kingston, Jamaica.
Touching down, he heads straight to the studio of Major Lazer – a duo made up of DJ/producers Diplo (Wes Pentz) and Switch (Londoner Dave Taylor) – where he immediately rolls a joint and lays down what he hopes to achieve from his trip. He wants to get back to his roots and promote harmony in the same fashion as Bob Marley and The Wailers did in their day. Watching Reincarnated, one could argue that this wasn't the aim at all, and that in fact it was to find the finest "herb" (weed) that Jamaica has to offer.
The entire documentary is cushioned by thick white smoke. Snoop spends the film grinning through bloodshot eyes as branches of the stuff are chopped up and shoved into giant "chalices" before being lit and the vapour sucked through a wooden pipe – basically the biggest bong you've ever seen. This herb isn't the stuff that privileged teens smoke in their bedrooms when their parents are out for the evening; it's far far more potent than that. It has Snoop's cousin Daz sat on the dirt in a forest sweating buckets and short of breath, only to bake a spliff in the oven the following morning so it gets hard and lights faster. What was interesting to learn is that weed in Rastafari culture is part of a religious and spiritual experience. It is the Rastafarian way of connecting to their higher power, Jah. Snoop takes part in a religious ceremony on the last night of his travels, and is bestowed with the name Berwane, meaning "light". You get the sense that this acceptance by the Rastafarian culture means a great deal to Snoop, but on the other hand, he's probably just really really happy to have found some damn good grass.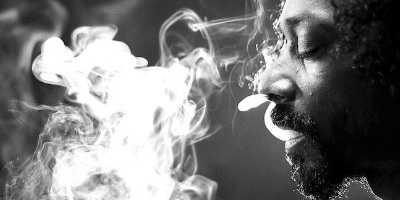 Reincarnated showcases some high-grade music, too. Peppered throughout the doc are snippets of Snoop Lion's first all-reggae album that shares the same name as the film, and it sounds very slickly-produced. Various aspects of Snoop's pilgrimage to Jamaica have clearly inspired the record. A grapefruit eaten on an excursion through Blue Mountain (weed central) spawns bouncy number Fruit Juice, and when Snoop gets round to recording it in the studio, blunt in hand, he is evidently having huge fun. The somber track Ashtrays and Heartbreaks which features – wait for it – MILEY CYRUS, that's Miley Cyrus, star of LOL – is inspired by the news of Daz's nephew passing away back in the States. In Ms Cyrus' defence, she sounds pretty decent in the chorus. No Guns Allowed is also a moving song that sees Snoop Lion duet with his daughter Cori B.
There is the question of why Snoop Dogg is doing this at all. Most men would just buy a ridiculously expensive leather jacket or a motorbike or a two-seater car. But the former member of 213 has never done anything by halves. This question is actually sort of answered when the rapper goes into the detail about his childhood and the deaths of Tupac and his cousin Nathan, aka Nate Dogg. The soundbites about him growing up on the streets and being in and out of jail as a teenager are details that you could have picked up via a quick browse through Wikipedia. Snoop reveals that he argued with Tupac the night before he was shot, and expresses – in a rare show of emotion – regret that he hadn't been able to make it up with him. Footage from Nate Dogg's funeral is also made part of the film, including Snoop's eulogy at the service. It seems intended to make us feel as though we're privy to something intimate, but it comes over as a bit extraneous to the rest of the film in an attempt to give it an emotional core. But it's simply not possible through all the weed smoke.
That said, you get a sense that Snoop Lion has experienced so much violence and destruction throughout his life that he's been longing to spread a positive message for a change. Not that Sexual Eruption wasn't positive, just something that's not about sex or firearms. It's having a positive effect on ol' Snoop, though. His daughter informs us that he comes home in a more jovial mood these days instead of "in a rage". Taking a new direction with his music is having a healing effect both on his creativity and his soul. The artist formerly known as Snoop Dogg is at peace with himself.
It was a bold career change for Snoop Lion; ditching the name, persona and sound that has made him famous for almost twenty years. However, Reincarnated doesn't tell us anything new beyond what songs to expect on the new album. Perhaps that's what this documentary was in aid of: to make us aware of the album and ultimately buy it. It'll definitely be a worth a listen, though.
About The Author