You Again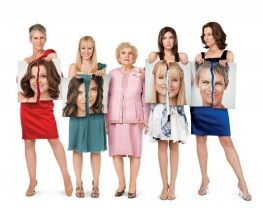 I won't be mean and say that I could have predicted exactly how You Again would pan out by the end of the first scene. Instead I'll be honest and say that it was probably by the end of the third scene, which is still pretty poor by anyone's standards. To summarise in my own words, You Again is a tale of the high school geek turned attractive and successful business woman, who on finding out that her brother is engaged to her high school tormentor, is forced to fight her past demons.
[FLOWPLAYER=http://uk.image-1.filmtrailer.com/45295.jpg|http://uk.clip-1.filmtrailer.com/5638_16427_a_5.flv,275,180]
Marni Olivia Olsen (Bell) returns home from her PR job in the big city to discover her brother Jonathan is engaged to the beautiful Joanna or 'JJ' as she was known back in school. Joanna's sugar sweet behaviour and pretence of not remembering who her sister in law is, sees all of Marni's insecurities come to the surface and a string of hilarious events ensue. As Marni tries to expose Joanna for what she really is and convince her brother not to marry her, a series of unfortunate accidents occur, and we see Marni once again looking increasingly the spotty, bespectacled girl she was high school.
The saviours of the movie are without a doubt the more mature cast members. Sigourney Weaver plays the glamorous successful aunt of Joanna and Jamie Lee Curtis takes the role of Marni's mother. In an extremely coincedental sub-plot they are revealed to be high school friends, but haven't spoken for years since a falling out at prom. This parody of Marni's storyline leads to a painfully predictable series of events, as the two women compete like teenagers to prove to each other how happy and successful their lives have been.
I do have to admit that there are some pretty funny scenes with these two characters and terrible storyline aside, both Curtis and Weaver are as watchable as ever and approach their roles with a sense of humour that saves the film. Regardless of how I felt about You Again in general, I still mustered a giggle at some of Curtis' dancing. Another plus point comes in the form of Kristin Chenoweth aka 'Georgia King', the wedding planner. Chenoweth was the original Glinda in the Broadway production of Wicked, and she brings a real sense of theatre and comedy to her relatively minor role, stealing every scene she's in. Victor Joseph Garbor is also deserving of a mention for his highly amusing performance as Marni's slightly eccentric and endearing father.
Whilst I wasn't overly impressed with this movie, I do appreciate that with its U certification and predictable plot, it wasn't ever really meant for me. The film contains plenty of slapstick, lots of fairly obvious but inoffensive jokes, some valuable morals and the acting's not bad considering the script the cast had to work with. It's the kind of film that I imagine a mum could happily put on at a sleepover for a bunch of ten year old girls to shut them up for a bit. You Again does cater well for its demographic, though it certainly has no place on my DVD shelf.
Unfortunately for me, I found You Again formulaic, cheesy and quite frankly a little boring at times and I would definitely have liked to have seen a more from Weaver, Curtis and Chenowith (though Weaver, Curtis and Chenowith in a different film completely would be far more preferable!). I can safely say that You Again is NOT a film that I will be watching again; clichéd and predictable, it was barely worth it the first time.
About The Author