The Pirates! In An Adventure With Scientists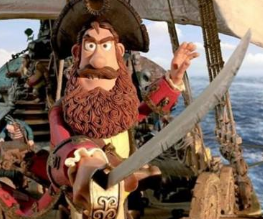 What's the best thing about being a pirate? The skewering? The cutlasses? The booty? No no. "The best thing about being a pirate", Hugh Grant's luxuriantly bearded Pirate Captain informs his wide-eye-patched motley crew, "is HAM NIGHT!" Hurrahs, enthusiastic pine limbs and bloody delicious ham all round. So it is that we enter the shanty-loving, flag-waving, Blue-Peter-badge wearing world of The Pirates, a crew so happily useless that their own captain's ransom amounts to twelve doubloons and a free pen. But none of this matters to our team – a makeshift family consisting of Pirate With Scarf (Martin Freeman), Pirate With Gout (Brendan Gleeson), Surprisingly Curvaceous Pirate (Ashley Jensen) and Polly The Parrot – the much-loved heart of the entire salty outfit. After all, who needs infamy when you can spend your days shouting things like "SWEET NEPTUNE'S BRINY PANTS"?
Trouble is, every twelve months the Pirate Of The Year awards roll around, and our headstrong, gleefully confident Pirate Captain enters to utter humiliation. After one too many jibes at the hands of expert sea-dogs Black Bellamy, Peg Leg Hastings and Cutlass Liz, our captain vows that this year will be different. This year he'll land enough booty to snatch the coveted title. One buccaneering montage later, and Charles Darwin (David Tennant) is walking the Pirate Captain's plank to plaintive sobs of "I'll never get to second base with a lady" (don't worry, it all makes perfect sense, sort of) when he spots the crew's beloved pet Polly. It's clear to our virginal scientist that this is no parrot – this is the only living dodo in existence, and he's sure that with the Pirate Captain's help, this could mean riches and fame for both of them. But should our Captain trust a man so vigorously obsessed with Queen Victoria's bun? Will the pirate-hating monarch allow our rag-tag team into her fair country in the first place? Will Surprisingly Curvaceous Pirate ever get a chance to wash her beard in peace?
Criticisms of The Pirates! have mostly centred around the fact that the story seems to lurch from place to place, never with a clear objective or arc – something that didn't matter in Gideon Defoe's original picture books. And to be absolutely fair, it's true. The plot of Pirates! doesn't quite hang together. The Pirate Awards, set up to be the focus from the start are done and dusted before the half-way mark, the properly brilliantly mental Queen Victoria (Imelda Staunton) flits in and out as the pace requires, only becoming a figure of import as we rush towards our climax, and it's difficult to see how we're supposed to fully empathise with our egotistical Pirate Captain when every decision he makes seems to send us spiralling into more and more mayhem. But the thing is, as a film Pirates! is so relentlessly joyful that to get bogged down in the structural problems seems rather like tossing the dodo out with the salt-water. If you've got eyes, you will enjoy The Pirates! In An Adventure With Scientists. It's as simple as that.
Wonderful visual gags flood every frame of this film; from sandwich-concealing police hats to newspapers with headlines like "Blackbeard Shows Off New Beach Body" – this is detail unlike anything Aardman have ever produced, and the result is dazzling. Twin that with gloriously silly word-play throughout ("Blood Island. So called because it's the exact shape of some blood") as well as epic set pieces – a sequence involving a bath, a monkey, an ancient statue and crashing down endless flights of stairs in hot pursuit of a dodo-thief is animation perfection – and you have a feature that can't help but delight. No, it doesn't quite have the structural strength of Chicken Run, but it's wonderful stuff all the same.
The other thing to be taken away from The Pirates!, not to mention from Aardman as a company is that it champions a message that it practises: infamy is worth its weight in doubloons, but true joy in what you do is priceless. Aardman spent five years lovingly constructing this ridiculous, delicious, plasticine caper, and they do it for one reason and one reason alone – pure love for the medium. In a cinematic skyline growing ever more cynical, there's something to be said for a glimpse of piratical passion bobbing along the horizon. It may be that their ship is a little more rickety than most, but this is still one crew we'd certainly be proud to join. LONG LIVE HAM NITE!
About The Author