Animal Kingdom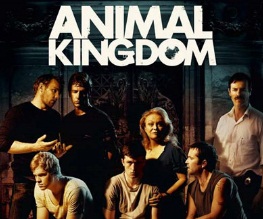 Like your gangster movies dark and brooding? Then Animal Kingdom will hit the mark. Australian youngster Joshua 'J' Cody (James Frecheville) finds himself thrown into the precarious world of guns, drugs and booze and very quickly has to adapt to the lifestyle of the bad and the ugly. Well, not that ugly – cue Joel Edgerton and Sullivan Stapleton. As things start to get hairy with police-folk, J finds himself forced to make some tough decisions. An awesome score, brilliant acting and some slow-mo that will blow your mind, Animal Kingdom is a mighty gangster film.
When J's mum dies of a heroin overdose, he heads off to live with Grandma Janine (Jacki Weaver). Don't expect knitted tea-cosies – Janine lives with J's three uncles, who are coincidentally pro-armed robbers in a bit of a pickle with the authorities. After fourth uncle, Baz Brown (Joel Edgerton) comes face to face with the armed police, J finds himself having to choose between family and morality at the centre of a battle between right and wrong. An exploration of fear, criminality and masculinity, this film is foreboding and real edge-of-the-seat stuff.

Frecheville is brilliant in the lead role. Seemingly dim-witted and so emotionless that if you ate his hamster you'd be hard pushed for a reaction, he is an ideal character for that tricky area in between good and bad. But don't let his unsmiling face fool you, he can have a good cry when it's necessary and when he does it's so uncharacteristic it makes it all the more harrowing. Uncle Pope (Ben Mendelsohn) is the leader of the pride (yep, animal imagery – deal with it) and creates the atmosphere on which the film mostly relies. Mendelsohn's performance is brilliantly unstable, creating the most uncertain scenes with extreme close-ups of his face showing off that uncomfortable, piercing stare.
Guy Pearce makes a belated appearance as Detective Nathan Leckie, sporting one of those rather impressive moustaches. The sort that was popular in the 80s. Really the only good guy of the film, he's seemingly oblivious to dodgy police activity and gives a great performance as family-man and moral standpoint. Weaver is equally as impressive as his polar opposite – she likes to smooch her sons as only an oedipal mother would do and, like a souped-up version of Peggy Mitchell, won't let anything 'appen to 'er kids.
You could say that little happens in Animal Kingdom, and yet it's exhilarating. The constant feeling of anticipation, the odd bit of dark humour and the slow build up of dread and fear are good enough reasons to see it. However, if you're looking for a bit more, the brilliantly booming score by Antony Partos is undoubtedly the sole reason this film is so unsettling. Alongside some beautiful slow-motion shots of the Aussie gangsters, the music fills the cinema creating an audible feeling of inescapable doom.
Loosely inspired by the underworld of Melbourne's gangsters, this is a first-time big screen venture for director and writer David Michôd. I for one would keep an eye on him for the future – this film has already bagged the World Cinema Jury Prize at the Sundance Film Festival 2010. In short, this is a wonderful story of a cold-blooded power struggle and inevitable defeat.
By Siobhan Burke
About The Author