Citadel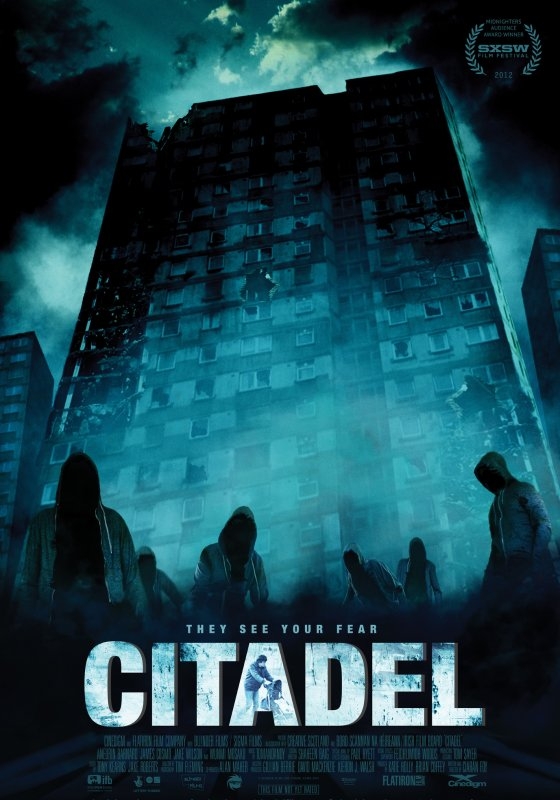 Having developed acute agoraphobia following a violent attack on his pregnant wife, Tommy (Aneurin Barnard) is locked in constant battle with his condition as he tries to remove his newborn daughter from the dilapidated suburb of Edenstown. Calling on the help of support worker Marie (Wunmi Mosaku), he gives up the keys to his council flat and arranges to catch the next bus out of Glasgow. His plans are soon squashed, however, when a gang of youths kidnaps his daughter and leaves him for dead. When a local priest (James Cosmo) suggests that the culprits might be slightly less than human, the two team up to save Elsa and put an end to the monsters once and for all.
After impressing at last year's Edinburgh International Film Festival with Guinea Pigs (later renamed The Facility), rising star Barnard returns to both the horror genre and festival circuit with low-budget Brit-flick Citadel. Directed by Ciaran Foy and co-starring James Cosmo (who had three other films playing at this years Glasgow Film Festival), Citadel is an interesting little chiller that seems to split audiences right down the middle.
As a horror, Citadel is really rather effective, as scary as it is atmospheric. While creepy children have long been a genre staple–whether they're seeing dead people, killing rednecks in cornfields or housing the Antichrist–Foy's Hoods are original enough to stand out in the pantheon if pubescent villainy. A triumph of sound design and simple prosthesis, the creatures are genuinely unsettling, elevating a film that might have struggled to register with a lesser antagonist.
To look at the film as anything more than a simple scare-tactic, however, is to open something of a can of worms. By essentially demonising an entire generation, treating its teenagers as feral creatures unworthy of assistance or sympathy, the film seems to pander to a startlingly right-wing ideology. As social commentary goes, it is not particularly subtle — these are hoodies that not even David Cameron would wish to hug.
With commendable performances and credible effects work, Citadel is undoubtedly a solid piece of genre filmmaking. Unfortunately, between the jump scares and surprisingly tense altercations there is a worryingly confused message at the film's heart which is simultaneously sending shivers down your spine for the wrong reasons entirely.
About The Author