CSI: Las Vegas Season 10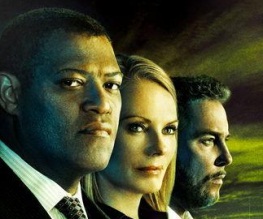 The CSI effect has been far-reaching in the criminology field. The line of work, once a scientific back-water, is now flooded with applicants who are desperate to join the likes of Nicky, Catherine and Dr Ray as they navigate the treacherous landscape of Las Vegas. With spinoffs in Miami and New York, CSI: Las Vegas is the grand-daddy of the franchise, and arguably the best at what it does.
This season sees the team recovering from the departure of Grissom (fan favourite William Peterson) and grappling with serial killer Dr. Jekyll as he slices his way through Nevada. Ex-stripper and head of department Catherine keeps her head up after her leadership is criticized by Riley, and David and Wendy share an unexpected romantic moment. Newbie Dr Ray Langston (The Matrix's Lawrence Fishburne) must acclimatize to his new job after being forced to use lethal means in the Season 9 finale, and the rest of the team must decide if the ex-doctor is to be trusted.
Improbable or exciting
A continual complaint about the series, mainly by the police force, is that it's unrealistic. Of course, it is, Bruckheimer produces it, and we all know his head is not firmly hinged in reality. Personally, I love the improbable nature of the show. If they acted as real CSI's do, there would be a lot of standing around in a lab, waiting weeks for DNA results. Boring! Instead, they trample around on crime scenes, make arrests, carry guns and generally go above and beyond the job title. The Parents Television Council in America are another group not too fond of the franchise, due to its gory nature. Special effects really push the boundaries here, and if you're the kind of person who wants to see intestines tied up like bowtie pasta, then make a 40 minute slot in your life for this.
Nearing the End?
Unless you're Friends, double figure seasons seem incredibly difficult to pull off, and this is certainly the case with CSI. It's hard not feeling like the writers are rehashing old plot lines – another serial killer, anyone? – and a distinct lack of character development limits our capacity to care what happens to the team. Dr. Langston's fears about his innate violence disappear after an episode or two, and reference to characters' lives outside the lab is incredibly sparse. Though the crime drama continues to be engaging and watchable, you can't help but feel you've seen it all before.
About The Author