Non-Stop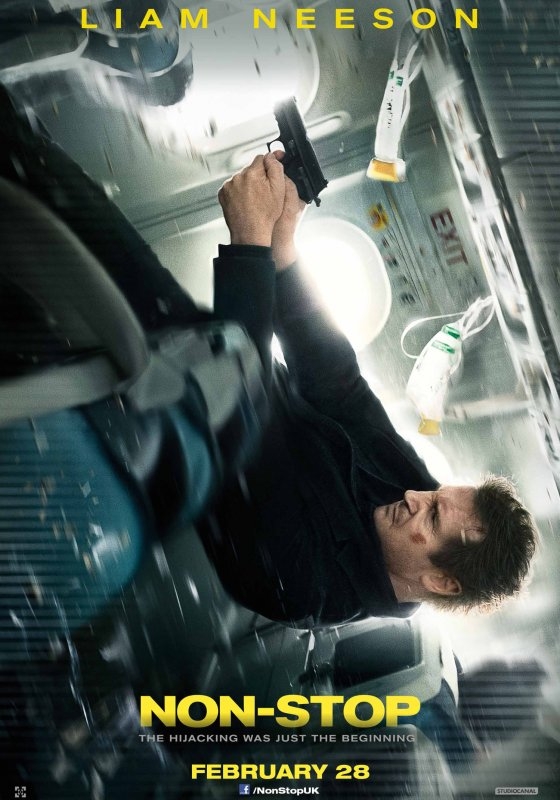 Liam Neeson is back in action man-mode for Non-Stop, a tense and fun thriller set almost entirely onboard a plane during a transatlantic flight. Neeson plays boozy air marshal Bill Marks, who springs into action when an unknown criminal threatens to kill a passenger on the flight every twenty minutes until a ridiculous sum of money is paid into their account. Trouble is, the perpetrator could be anyone – passenger or flight attendant. So, is it Julianne Moore? Or Lady Mary off Downton Abbey? Could it be House of Cards' Peter Russo? Is it Oscar-winner Lupita Nyong'o? What about the stereotypical Muslim doctor who everyone is immediately suspicious of because he's Muslim? You don't find out until the final twenty minutes, but as they say – getting there is half the fun.
Limiting the action to the inside of a plane (apparently purpose-built to house Neeson's 6'4" frame) was a wise move. Director Jaume Collett-Serra effectively utilises one-take 360-degree shots that grab you and hold your head under as Marks races against the clock. A fight scene in a toilet, a space barely big enough to blow your nose in, is particularly vicious and utterly thrilling. There's hardly time to catch your breath – usually the sign of a decent action movie.
Flashes of the ridiculous, both intentional (Marks retrieving his gun by way of zero gravity) and unintentional (Nyong'o's atrocious English accent), coupled with over-the-top dialogue (including a stellar use of the word 'wanker') are gleefully reminiscent of the action flicks of the 80s and 90s. The added issues of airport security and racial-profiling bring it up to date for the post-9/11 age, making Non-Stop close-to-home enough for you to care about what's going on.
Liam Neeson continues his late-blooming career swerve into the action genre, but there isn't much to set Bill Marks apart from Bryan Mills (including the initials) apart from a smoking habit. However, he has enough gravitas to stop his role from becoming one-dimensional – which is more than can be said for the other characters. Plucky Jen (Moore) should have LOVE INTEREST stamped on her forehead, whilst Paddington Bear-loving Becca (Quinn McColgan) should have WILL HAVE A BRUSH WITH DEATH stamped on hers. It's not all bad, though; Corey Stoll's gumshoe policeman Reilly is note-perfect and should get his own TV show.
If you leave the snarky Robbie Collin in you at the door, Non-Stop is exhilarating stuff from start to finish, led by a solid performance from Neeson. Even with Taken, Taken 2, Unknown and Nolan's Dark Knight trilogy under his belt, he's showing no signs of letting up. Thank goodness, as this film would nosedive without him.
About The Author