13 Dwarves and one Hobbit start their journey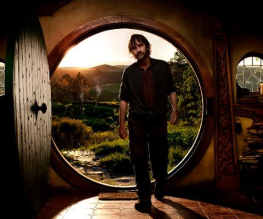 So, we've heard that a couple of small films based on some fantasy book, starring a few fairly well-known actors and directed by this Kiwi bloke have started shooting in New Zealand. Anyone excited much? Well, we bloody are – it's now probable that The Hobbit will reach cinemas before our eleventy-first birthday (to which everyone is invited and yes, there will be dragon-shaped fireworks).
The project has undergone just a few setbacks and postponements, the latest of which was Peter Jackson's hospital trip for treatment on a perforated stomach ulcer. Hopefully now shooting has actually kicked off it will be slightly more smooth sailing from here.
For those who don't know the story, go and read the book. Just kidding, here's a little summary: Hobbit Bilbo Baggins finds himself swept up in a quest with 13 dwarves and Gandalf the Grey when they set out to regain the lost dwarf kingdom of Erebor from the dragon Smaug. On their journey they encounter all sorts of treacherous obstacles and Bilbo, after meeting the creature Gollum, gains an object that will change the fate of Middle Earth forever. (Can you see where this is going?) Now, go and read the book.
As well as the 13-strong cast of dwarves plus Martin Freeman as Bilbo Baggins, Ian McKellen will be reprising his role as Gandalf, and Warner Bros have finally absloutely confirmed that other returning actors will include Elijah Wood, Cate Blanchett and Andy Serkis as Frodo, Galadriel and Gollum respectively.
The release date set for the first film is December 2012. We'll book our tickets at the IMAX in about a year, then… http://credit-n.ru/potreb-kredit.html http://credit-n.ru/ipoteka.html
About The Author