Anna Paquin and Kristen Bell watch TV in new Scream 4 image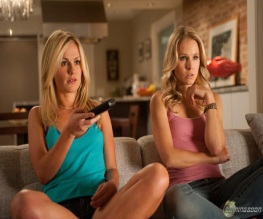 There are few movies that have me as weak with excitement as Wes Craven's upcoming return to the Scream franchise. The ultimate horror trilogy, complete with weaker third instalment, Scream cast a lampooning eye over the nineties horror scene to rapturous effect. 15 years on, seven Saws and two Paranormal Activity movies later, there is a new horror pallet just screaming to be satirized by Sidney Prescott, Gale Weathers and Dewey Riley.
With Neve Campbell, Courtney Cox and David Arquette returning, and joined by a new generation of scream queens and Ghostface-fodder, Scream 4 looks set to restore Wes Craven to his former glory. Experiencing somewhat of a creative lull – which started with 2005's Cursed and reared its head once more for this year's My Soul To Take – Craven's return to the Scream franchise may have done more than just save another of his properties from the gritty paws of MICHAEL BAY's Platinum Dunes.
Following the first cameo-heavy official trailer, a number of stills have recently appeared online to build interest in preparation for the film's April 15, 2011 release.
About The Author