A Dangerous Method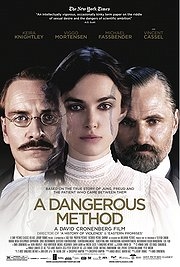 After a few years of amusing himself with crime thrillers, David Cronenberg seems to be steering his career in yet another new direction with historical drama A Dangerous Method. In reality, however, this taut and emotionally charged film represents a wily return to form for the groundbreaking director of The Fly and Videodrome – it's just that this time round we are invited to watch his protagonists' psyches, rather than their bodies, twist out of shape…
The year is 1904, and Carl Gustav Jung (Fassbender) is an aspiring psychiatrist trying to make his name in Zurich. He longs to apply the famous but aloof Professor Sigmund Freud's theory of psychoanalysis – the so-called 'talking cure' – to a patient, but doesn't come across a suitable candidate until he is asked to treat Sabina Spielrein (Knightley), a deeply disturbed Russian beset with uncontrollable tics. Jung's cautious use of psychoanalysis reveals that Sabina's myriad problems stem from her masochistic enjoyment of the beatings she once received at the hands of her father, and he begins to tempt her down the road to recovery with the irresistible prize of a possible career in analysis for herself.
However, Sabina's case so interests him that after several years (and his patient's full recovery) Jung plucks up the courage to request an audience with Freud. When he meets the ageing Father of Psychiatry (Mortensen) the two feel an immediate kinship and begin a long and fruitful correspondence, sharing ideas and debating their different attitudes to the human mind. But when Freud refers one of his patients, the schizophrenic doctor Otto Gross (Vincent Cassel), to Jung it's not clear who is treating whom – Gross's philosophy of avoiding repression utterly begins to impact on Jung, and after years of suppressing his attraction to Sabina he begins to wonder if there is any need to refuse himself such a natural impulse. With his tendency to reduce all motives to a libidinous common denominator, Freud would hardly be surprised – but as his protégé involves himself more and more with the volatile Sabina, he begins to doubt the wisdom of his choice to name Jung his successor.
Like the recently released The Ides of March and The Deep Blue Sea, A Dangerous Method began its life as a play. Just as George Clooney's political thriller suffered from an overabundance of post-theatrical 'dialogue in one room' malaise, this film can seem turgid at points; I appreciate that there is limited scope for action in such a weighty drama, but the obsessively repeated use of the same three or four locations (particularly given the gorgeous mid-European setting) did begin to feel wearing. However, A Dangerous Method has much, much more in common with Terence Davies' inspired adaptation of The Deep Blue Sea, with a sparkling script courtesy of the Oscar-winning Christopher Hampton (who wrote the original play) doing much to enliven the occasionally dour staging and inject subtle traces of black comedy into the story.
However, such a focused and intense film must inevitably live or die on the performances of its principal cast – and A Dangerous Method certainly has a cleaner bill of health than the neurotic Jung, cancer-riddled Freud or conniving Spielrein. Fresh from his universally acclaimed performance in Shame, Michael Fassbender delivers a totally different but no less intense portrayal of a man whose baser lusts gradually begin to threaten the stability of his life. His Jung is scholarly, reserved and deeply concerned for his patients, a praiseworthy attribute which nevertheless draws him into dangerous waters after he meets the anarchic Gross (a deliciously grimy performance from Vincent Cassel, last seen rogering a farmgirl against a ladder before using it to flee Jung's clinic).
Viggo Mortensen's Freud is arch, supercilious and inscrutable, willing to sacrifice his dearest friendship for the sake of his own perceived authority – is it really just nine years since he was charging around Middle-Earth with a sword? The real surprise, though, is Keira Knightley. Although her thick Russian accent skirts the edge of parody from time to time, her performance bears the visceral Cronenberg stamp – whether as a shrieking, gurning invalid, a moaning succubus being spanked by the oddly reserved (and always fully dressed) Jung or an earnest academic with her own, Wagner-inspired ideas about analysis, this might be the first time since Atonement that Knightley has been worth watching.
Ninety-nine minutes was scarcely enough time to dip into such a rich, fascinating and often shocking story, and many aspects of Jung's life in particular are brushed over (his ideas about spiritualism, for example, are touched on in one scene and scarcely mentioned again). However, A Dangerous Method is not only a compelling introduction to the extraordinary work of Freud, Jung and Spielrein but a curiously well-crafted initiation into the cult of Cronenberg himself. Can't hack the blood and guts of body horror? Try psyche horror – it's much less messy, but just as disturbing.
About The Author