Roary The Racing Car: Winter Breeze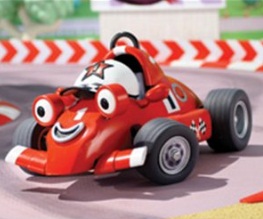 Screened on Channel 5 and Nick Jr, Roary The Racing Car is a kids show that seeks to marry two ideas; subtle morality lessons and CARS CARS CARS. Using both stop-motion animation and CGI, the Roary team welcomes us into the primary-colour world of the Silver Hatch racing track – where Roary, Maxi, CiCi and many other cars live, work and gleefully tear about. They are looked after by on-site mechanic Big Chris, who couldn't be more voiced by Peter Kay if he tried. During the hour long DVD, you'll hear the cheeky comedian sing the theme tune six times. No matter how much you enjoy his dulcet Bolton tones, that's a lot of times.
Anyway, Roary The Racing Car: Winter Breeze has six episodes: Winter Breeeze, Car Boot Sale, Let's Hear It For Big Chris, Mr Carburettor's Birthday Suit, Crash Landing and Save Our Tree. All episodes are around ten minutes long, and you'll be glad to know that at no point does Mr Carburettor get naked, despite what the titles may suggest. Seeing as the episodes are so short, the team does well to fit well-rounded stories and likeable characters into each one; from campaigns to saving Flash the Rabbit's home or rescuing a snow-bound beach buggy to coaxing a nervous helicopter to fly again after a crash. Peter Kay's jovial likeability is good fun for both kids and grown-ups, and there's enough bright colours and happy noises to keep the littlest of little ones happy.
Though occasionally the need to hammer home the episode's "message" confuses what could just be a good clean story, (such as the bizarre lesson "and Roary leant that helping your friends is more important than being afraid"), this is still jolly, innocent fun. Perfect for kids who are unimpressed by life-sucking TV such as the terrifying In The Night Garden, action-packed Roary and co will ensure that your wee ones enthusiastically race about the house honking, shouting and trying to hug the Mazda. What's not to like?
About The Author