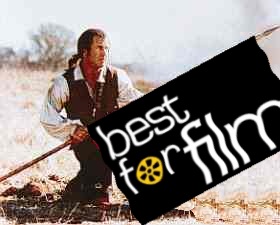 Hello! Welcome, or welcome back, to Best For Film. Mel Gibson is very happy to see you here.
Best For Film is a cinema website. Nothing special about that, you're thinking – there's a film site on every cyber street corner these days, wearing a slightly inappropriate skirt and winking at passers-by (we know your game, Total Film). They're certainly not thin on the ground, so why should you stick around here? Well, there are a few reasons.
First, we've been doing this for a while. Best For Film was launched in 2009, and swiftly came under the protection of 'Don' Natasha Hodgson, a literary mafiosa who built the site up from little more than a DVD collection and a bagful of cynical adjectives to the critical colossus you see before you. Somewhere along the line she moved on to manage her family's olive oil importing business (which we've always suspected might be a front for something more sinister, to be honest), and her long-serving deputy John Underwood took the wheel of what's becoming a quite unbelievably mixed metaphor. With the able assistance of more than sixty talented interns (not all at once, we're not maniacs) and dozens of steely-eyed freelance scribblers, Best For Film has grown in critical weight as well as breadth, covering films from across the world and writing features that extend, or at least confuse, the boundaries of human endeavour.
Second, it's a fair bet that we've already written whatever you feel like reading. Over the last few years we've covered thousands of up-to-the-minute News stories, bringing you the hottest trailers, the most surprising casting news (someone just hired Lindsay Lohan again; we can't believe it either) and the cheapest, most prurient Hollywood gossip because at least it keeps you off the Daily Mail. Every day sees a new torrent of stories flood into the hallowed halls of Best For Film Towers, and before you can say "I wonder if Dolph Lundgren is still getting work" we'll serve you up a steaming hot plate of NEWS.
Or maybe you'd rather head straight to the coalface of cinema with a brand spanking new review? Whether it's the latest blockbuster or some mad Mongolian film about a shepherd with a passion for vintage motorcycles, we'll have reviewed it – just check Film Reviews for more. Looking back a bit farther, or setting your sights lower? DVD Reviews is your friend; our bargain basement is filled with reviews of the horrors, thrillers and romances that don't make it into cinemas but might just squeeze onto your list of personal forgotten gems.
Looking to take things down a notch and relax with a longer read that's still got the BFF pizazz? Our Film Blog section is crammed full of first-class features, from regular offerings like the Cheat Sheet and Drinking Game to Top 10 blogs, retrospectives on classic films and interviews with all your favourite actors and directors. Except Nicolas Cage.
Still with us? Good, because your third reason to stick around might actually be the best – and it's certainly not one you'll find anywhere else. We've teamed up with ePoints, the revolutionary online points scheme, because we're sick of having to jump through hoops to earn rewards online and we're sure you are too. Our solution? To give you ePoints (redeemable in our store for oodles of brilliant stuff) for doing everything you'd normally do onsite – whether it's tweeting an article, leaving a comment or watching a trailer, we'll be lining your pocket with ePoints whenever you get involved. We think we're the only film site in the world to reward its readers like this, and we hope you enjoy seeing your points rack up as much as we've enjoyed coming up with great redemption items for ePoints high-rollers.
Now, stop us if we're getting a bit personal, but a few of you seem to be smiling through a mask of tears. "I'm so glad Best For Film exists," your gaze mutely whispers, "but imagine how happy I would be if I could be a part of its happy band of writers!" Well, guess what – YOU CAN. Just get in touch via [email protected] and we'll see what we can do together. If you're still mulling things over, sit tight – in a few weeks we'll be launching a new contributor system which won't only make it easier to write for us, it'll also mean you're rewarded for the great articles you write for the site! It's all bloody exciting.
That's about it from us – so, as Michael Bay has literally never said, we'll be off before we become ridiculously overblown and awful. Don't forget that you can register for BFF and ePoints here, check us out on Facebook, Twitter and Google+, or just gambol in the shining garden that's spread out before you. No selfish giants, we promise.
Love,
Best For Film x