Anyone For Another Tintin Trailer?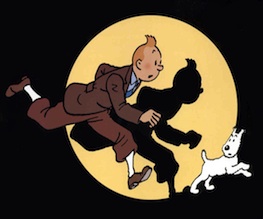 Take a look to your left; that is the original Tintin, a cute Belgian comic book character of the 20th century. Unlike most comic book heroes, he has no superpowers whatsoever, other than the ability to sniff out a good story… yup, he's a reporter. Alongside him is Snowy, his four-legged companion, who often seems to have a better grasp of suspicious goings on than his human master.
Got them committed to memory? Good; now ERASE that completely and watch this trailer:
Changed a little bit, hasn't he? TinTin-ologists will, of course, note his appearance has altered most significantly. As has his Belgian accent. NEVERTHELESS, it is still unmistakeably our favourite super journo. And, sure, this second trailer isn't all that different from the first, except for the fact it's longer. But that means we get more boats. Everybody loves boats, don't they?
How will Daniel Craig, Jamie Bell, Andy Serkis and Simon Pegg's dulcet tones get along in this star-studded 3D cartoon? No idea. Will Steven Spielberg and Peter Jackson prove a good team? Probably. Will this be a completely annoying kids film or something quite special? Only time will tell…
We here at Best For Film haven't quite made up our mind on the Peter Jackson extravaganza yet but, as it's out next week, we don't have long until we can park ourselves in front of a big screen and check out all those seafaring antics in full. Boats, people. There will be boats.
About The Author