Baywatch remake rumour mill carries on churning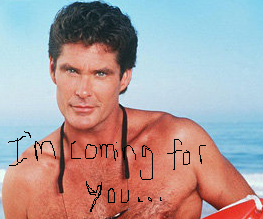 I'll be theeeeree!! But only by force, if ever this movie manages to get out of development stage and actually into the cinema. There have however been some "interesting" developments happening for the re-rebooted Baywatch movie. It is rumoured that Justin Timberlake and Justin Bieber might be joining the cast getting stripped down to the waist alongside the Hoff and Pammy in her red swim suit. I'm not sure that legally we are even allowed to look at a stripped down Bieber, or actually if anyone in their right mind would even want to.
So far very little has come to the surface (no pun intended) about the project, but writer Ivan Reitman (what happened Reitman?) has hinted that Timberlake will be playing a disgraced former Olympic swimmer (deep… again, no pun intended) who has to take on a job with the Baywatch crew. Bieber will apparently be playing the Hoff's son and hopefully they will ditch him out in deep water early on into the story.
The original Baywatch series ran for twelve years and even managed to have TWO spin off series including the one where David Hasselhoff was a lifeguard by day and a paranomal investigator by night (Baywatch Nights – anyone else remember that?).
Reitman has said that the film will have a 21 Jump Street feel to it and will be a humorous take on the original concept. So we are assuming that they really mean it will be a self-parodying piece of crap.
There is still no script at the moment and the IMDb for the film is looking as blank as Pamela Anderson's face so we might be waiting a very long time to be rescued. http://credit-n.ru/offers-zaim/zaymer-online-zaymi.html http://credit-n.ru/offers-zaim/glavfinance-online-zaymi.html
About The Author