Christina Hendricks giving us Seconds of Pleasure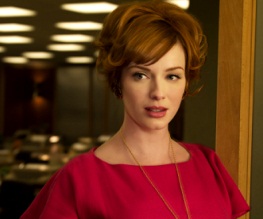 The russet-haired Mad Men star is the latest name to be involved with Neil LaBute's latest script, Seconds of Pleasure, rumoured to be directed by Mike Figgis.
While Mad Men fans are waiting to be told when new whisky-and-secrets type material is going to be produced, the cast are getting on with other acting jobs. Jon Hamm is coming to a screen near us soon in Sucker Punch, January Jones has got X-Men: First Class and Unknown to add to her CV while Elizabeth Moss is currently starring on the London stage in The Children's Hour. Hendricks, meanwhile, is also connected to I Don't Know How She Does It, the adaptation of Allison Pearson's novel.
LaBute's Seconds of Pleasure, which is due to start shooting in the summer, will follow several couples on a plane whose lives intersect in a series of vignettes. Also attached to the project are Brendan Fraser (as Hendricks' husband), Kristen Scott Thomas, Matt Dillon and Julia Stiles. Let's just hope the film will be more The Shape of Things LaBute than Death at a Funeral… http://credit-n.ru/kreditnye-karty-blog-single.html http://credit-n.ru/potreb-kredit.html
About The Author