Disney channelled by Tom Hanks: First look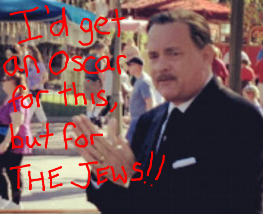 Walt Disney, as played by a disturbingly convincing Tom Hanks, is set to be portrayed in the upcoming flick Saving Mr. Banks, which follows the troubled production of Mary Poppins and its author P L Travers. We expect Tom Hanks' Disney to be appropriately shouty and magical and oh-so racist. It may be just a single shot of Walt Disney walking around Disneyland so far, but it already looks epic. Tom Hanks is a chameleon!
Aside from Walt Disney chucking about, Emma Thompson is playing P L Travers herself, Colin Farrell will be Travers' unsuccessful father and Paul Giamatti will be Walt Disney's sarcastic butler, or something. We're mostly excited for the return of the oddly-phlegmatic Jason Schwartzman, last seen being a complete douche in Scott Pilgrim vs. The World. Imagine if Jason Schwartzman was playing Disney… One day, guys, one day.
The full, unaltered, un-sarcasmed photo can be found by clicking the picture below: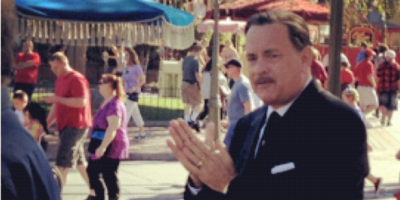 Tom Hanks is getting his Disney on in Saving Mr. Banks, coming late 2013. Oddly enough, he was also in similarly-titled Saving Private Ryan. Let's hope things turn out better for Disney than it did for Captain Miller.
Tom Hank's Disney is rather impressive. What other actors have nailed roles based on real people?
About The Author