Enchanted 2 On The Way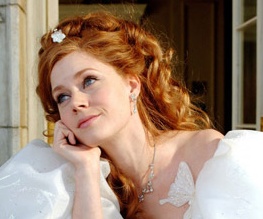 For all of those who loved Disney's live action Noo York take on a full scale fairytale (and we're not ashamed to admit that we're among that number), hold onto your glittery, magic pants! Enchanted 2 is offiically set to go, though there have been a few changes to the production line-up.
This time around, the direction will be under the care of Anne Fletcher (of The Proposal) and penning the script will be Jessie Nelson (I Am Sam). For those of you worried about the change around, fear not! After a bit of poking we've discovered that Fletcher used to be a choreographer, so hopefully Enchanted 2 will be even more dance-a-riffic than part one.
There's been no word on plot yet, but hopefully after the massive success of Enchanted the team will pull out all the stops on creating fantastical, visually stunning scenes like that of the 'How Does She Know' sequence in the first film. Not that we've watched it over and over again or anything.
But, we hear you cry, what about the cast? There's no word yet about whether the first lineup, consisting of Amy Adams, Patrick Dempsey, James Marsden and Susan Sarandon, will be returning en masse, but we reckon they'd be crazy not to be part of part two. Enchanted made an impressive $340 million at the box office, and really, what else have they all been doing since then? James Marsden was in The Box, and, well,we all know how well that turned out. Don those tight trousers James, and get back where you belong!
Are you wetting your petticoats about Enchanted 2? Or do you want to give us all a good slap? Either way, let us know!
About The Author