James Franco and Anne Hathaway to host the 83rd annual Academy Awards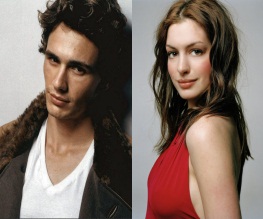 With Hugh Jackman having ruled himself out as a contender for hosting the 83rd annual Academy Awards, it was unknown whether last year's hosts – Steve Martin and Alec Baldwin – would return following a good reception or if the job would go to someone else. It can now be revealed, however, that James Franco and Anne Hathaway will be taking centre stage to provide pre-scripted banter and carry the show between awards.
While neither actor has hosted anything on this scale before, both have hosted Saturday Night Live and presented awards at previous Oscars; with Hathaway even duetting with Jackman to open the 2009 ceremony. The inevitable controversy, however, lies with the possibility that both actors might be up for awards on the night, with Franco's 127 Hours expecting to do big business this year and Hathaway's Love and Other Drugs at least in the running for the best actress categories.
"James Franco and Anne Hathaway personify the next generation of Hollywood icons— fresh, exciting and multi-talented. We hope to create an Oscar broadcast that will both showcase their incredible talents and entertain the world on February-27," said producers Bruce Cohen and Don Mischer. "We are completely thrilled that James and Anne will be joining forces with our brilliant creative team to do just that."
With younger audiences proving the least likely to tune into the annual telecast, producers will no doubt be hoping that Franco and Hathaway give this as yet untapped demographic a reason to tune into the biggest night of the Hollywood calender.
About The Author