Kevin Smith announces lead for Hit Somebody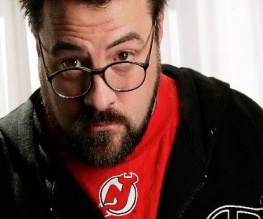 Kevin Smith, the legendary Silent Bob, recently announced that his indie horror film Red State's Nicholas Braun will play the lead in his new upcoming hockey film – Hit Somebody. Braun might not be the most well known actor but Smith is apparently very pleased to have him on board as main character Buddy McCracken.
Speaking during one of his hugely popular 'Smodcasts', Smith elaborated on his choice. "Seann William Scott wanted to make a hockey movie real f****n' bad," he laughed, "So he went to do another one, which meant we were star-less for a while, which was totally fine by me. But then I found so much of my Hit Somebody cast while making Red State, so the lead is going to be Nicholas Braun. He's this really great actor who I love to death and he is the perfect lead for this script, based on Warren Zevon's song."
The comedy story, penned as per usual by Smith himself, will revolve around McCracken's ice hockey life as he realizes his skills with both puck and fist. Filming is set to start sometime next summer and with Kevin Smith's record Hit Somebody has some great potential.
About The Author