New Attack the Block Poster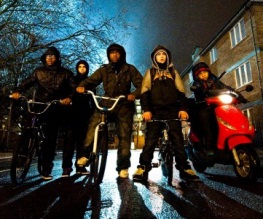 Attack the Block looks as though it could be the quiet British hit of the summer. Directed by Joe Cornish, it's sci-fi meets the 'hood, with Cornish saying he wants to do for alien invasion films what Shaun of the Dead did for zombies.
If you haven't seen the trailer yet, go here. It looks funny, self-aware and rough around the edges, like any good British indie debut. I'm not entirely sure what Nick Frost is doing though; he looks like a terrible undercover cop trying to part of da gang. Also starring Jodie Whittaker and Nick Treadaway, this is Cornish's directorial debut on the big screen; his best known work is TV's The Adam and Joe Show and he worked on the script for the upcoming Adventures of Tintin: The Secret of the Unicorn.
Attack the Block is due for release on May 13th, and here is your poster treat:

http://credit-n.ru/avtokredit.html http://credit-n.ru/zaymi-na-kartu-blog-single.html
About The Author