Odeon Refuses to Show Alice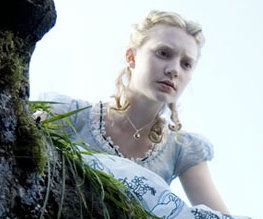 After a battle that has been raging over the past week between Disney and UK cinemas, Odeon has announced officially that it will not be showing Tim Burton's Alice In Wonderland when it opens in March.
The dispute is centred around the fact that Disney want to shorten the time cinemas can exclusively show the film before they bring out the DVD, from 17 weeks to just 12. This, according to UK cinemas, would seriously reduce the amount of revenue coming to distributors. Last week CineWorld decided to break ranks and show the film, and Vue followed shortly after. But the UK's biggest distributor, Odeon, has held strong on the boycott, believing that 3D films like Alice get much bigger audiences for longer, and thus justifies the longer release period. They stated-
"Odeon/UCI has invested considerable sums of money, especially in the UK, over the past 12 months to install digital projection systems in its cinemas to enable customers to enjoy 3D. The popularity of 3D titles meant that last year these films played in Odeon/UCI cinemas for an average of 18 weeks from initial release."
So that means that over 100 cinemas in the UK will not be showing one of the most hyped films of the last few years. Were Odeon right to hold strong against the Mighty Mouse? What do you make of it all? Let us know below!
About The Author