RIP Ray Harryhausen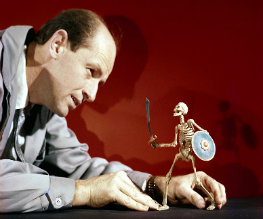 Filmmaking's creator of magic and wonder, Ray Harryhausen, died in London yesterday of natural causes aged 92. Harryhausen revolutionised animation, creating some of the most iconic and well loved mythical creatures on screen for pictures such as The Seventh Voyage of Sinbad (1958) and Jason and the Argonauts (1963).
Harryhausen was born in L.A. in 1920 and as a child had a passion for making model dinosaurs. Using an old film camera – with no stop-motion capabilities – he would make mini movies bringing his sculptures to life. After the war, Harryhausen launched himself into the film world creating models for Mighty Joe Young (1949). Harryhausen was often disappointed that the films he worked on were often let down by poor scripts and acting but he finally achieved what he considered to be his greatest success in 1981 with Clash of the Titans starring Maggie Smith and Lawrence Olivier.
Inspired as a child by watching King Kong, Ray Harryhausen went on to become the father of film animation, creating whole new techniques such as a dynamic and money saving split-screen technique called Dynamation.
Best known for his magical and mythical monsters, Harryhausen created some truly awe inspiring film moments starring skeletons, Gorgons and other creatures from the classics. Once when he was asked if he had a favourite creature, Harryhausen replied "It would be Medusa. But don't tell the others."
Harryhausen and his models inspired generations of fellow filmmakers including George Lucas, Tim Burton and Steven Spielberg when he was making Jurassic Park. Peter Jackson has paid tribute to Harryhausen saying that The Lord of the Rings would never have been made "without his life-long love of his wondrous images and storytelling", and film-makers almost without number testified to his influence in recent documentary Ray Harryhausen: Special Effects Titan.
Ray Harryhausen spent the later years of his life living in London where he would frequently attend fantasy conventions and book signings. He is survived by his wife, Diana Livingstone, and their daughter Vanessa.
RIP Ray Harryhausen
1920 – 2013
http://credit-n.ru/offers-zaim/zaym-na-kartu_migcredit.html http://credit-n.ru/offers-zaim/ekapusta-besplatniy-zaim.html http://credit-n.ru/potreb-kredit.html
About The Author