Tabloid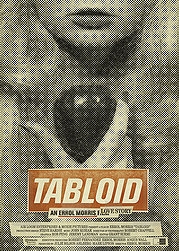 After falling for Kirk – a dashing young Mormon who promised her a family and proposed on their third date – small-town beauty queen Joyce develops a wild obsession with the man she's sure is her future. When he seems to drop off the face of the earth without warning, Joyce has no choice but to hire a private investigator, two bodyguards and a pilot to fly her across the Atlantic to track down her prince – who she believes was kidnapped by a cult. But the tables quickly turn when weeks later Joyce is arrested for the kidnap and rape of her ex-fiancé – after reportedly securing him in bondage apparatus and forcing him to impregnate her over a weekend in a secluded Dorset cottage. Joyce's defence is clear – she didn't do anything that he didn't want ("raping a man? It's like putting a marshmallow in a parking meter.") During and after the case Joyce becomes one of the first ever celebrity tabloid extravaganzas and soon dirty pictures of her erotic past surface, but to this day she holds that the images are edited and that she tied Kirk up out of love – because it was the only way to turn his guilt-ridden Mormon mind on.
Tabloid is the latest from documentary film-maker Errol Morris whose previous pictures include the likes of Gates of Heaven, Thin Blue Line and The Fog of War. Producer Julie Ahlberg praises Morris' "organic film making" – and the process is undeniably true – you could not make these characters up. Though the audience never get to hear from Kirk the manacled Mormon or Joyce's creepy sidekick KJ, who could prove the missing link to the secrets of that kinky weekend, we are given the pleasure of an unforgettable cast of interviewees. We meet Steve the obsessive admirer who sells Joyce out to the tabloids for the promise of a plane ticket to England to support her in court, the pervy private pilot who accepts Joyce's questionable mission for the chance of a shag and the Korean surgeon who years later would clone Joyce's beloved dog Booger into five new puppies; and not forgetting Joyce herself, now middle aged but still imbued with an air of performance that made her a tabloid phenomenon.
The film is reminiscent of Catfish (2010) in which Henry Joost and Ariel Schulman track down a mysterious Facebook family. Both films explore obsession and self-delusion, and if it weren't for the archive footage in Tabloid, doubt about its authenticity would be as fervent as those which surrounded Catfish last year. The films share the question of the manipulation of psychologically fragile protagonists. Morris stated that Joyce was more than willing to feature in the documentary as it gave her a platform for the story she was never able to tell. Though usually such motives could be questionable, it is arguable that Morris saw the inevitably endearing quality of McKinney – a character that rather than an object of ridicule is impossible not to love.
Morris' playful style erupts in his facing-off of Daily Express and Daily Mail journalists who could not be more tabloid- reporter typical, nor more conflicting in their angel vs. she-devil depiction of Joyce. Alongside interviews with the real-life stars of this tabloid blockbuster, Morris uses archive photos and footage and newspaper comic strips of the event to animate his exploration of this puzzling tale. Clips from black and white films effectively illuminate the fantasy versus reality element of Morris' picture, and mirroring scenes with Joyce's account highlight that the two are often blurred. Morris recognises that while other documentary-films use re-enactment to "create a hybrid between the real and the unreal" he leaves them out as "Joyce's whole life is the re-enactment of a story". His refusal to incorporate re-enactments also suggests that in this story there is no fundamental truth to uncover – just the conflicting tales told by various sources.
The exploration of levels of fantasy and reality, truth and fiction, representation and misconception is what makes Tabloid both fantastically entertaining and deeply meditative. Not only is it a fascinating reflection on how we are shaped by our hysterical media, but a wry look at the sensational stories we construct for ourselves that help us make sense of life.
About The Author