The Well-Digger's Daughter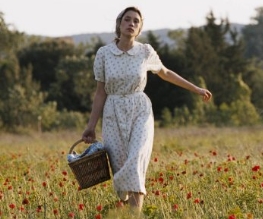 Daniel Auteuil makes a spectacular directorial debut with The Well-Digger's Daughter, an old-fashioned drama which, whilst juggling large themes of war, ruin and honour, is really only about one thing; love, in every meaning of the word.
Pascal (Auteil), an ageing widower, is father to six beautiful daughters. The most beautiful, without a doubt, is the eighteen-year-old Patricia (Bergès-Frisbey); a saintly girl, she goes above and beyond her daughterly duties, caring for her many sisters and her father as a mother and wife would. It is unsurprising (and nice enough) that she has captured the romantic intentions of the endearingly humble Félipe, a middle-aged well-digger in employment of her father; but it isn't until a chance encounter with Jacques (Duvauchelle), a handsome pilot with a roaring motorbike permanently straddled between his thighs, that Patricia really begins to feel the first stirrings of love.
Unused as she is to the world of men, Patricia doesn't notice anything amiss when her new admirer insists on taking her back to his room. Patricia rejects his advances, despite Jacques' protestations of love, and runs tearfully back to town. However a second encounter under a full moon sees her weaken under his touch and, before we know it, she has given herself to him completely. He promises to meet her for a third time but fate interjects; Jacques is dispatched to the front line, leaving Patricia pregnant and utterly ruined.
Whilst the love story between Jacques and Patricia is, without a doubt, captivating, it is the relationship between her and her father which truly captures our attention. Fatherly indulgence for his most favoured child turns to disappointment. Disappointment gives way to cold fury, as he sends her away to live with an aunt. Stubbornness leads him to try to forget all about her and, eventually, we see him overcome his judgement and set out to fetch her home.
The superior French landscape lends itself perfectly to every shot; rustling fields, golden sunshine, dappled woodlands and sultry winds create an utterly tangible and always picturesque world for our characters to evolve in. The threat of war, whilst never physically shown, is always present on the edge of the tranquil setting. Soldiers board trains, posters call men to action, radios pipe out news from the front; like the novel before it, this film helps to hold a mirror up to the side of the war we rarely see and helps us appreciate what it was like for those left behind at home.
So what if the ending is just a little too perfect? Panned by the majority of critics as sitting on the wrong side of saccharine, I feel the conclusion seems perfectly in keeping with this unhurried tale of love. It's the ending we hope for as an audience. No; it's the ending that, as an audience invested in these characters, we deserve.
Joyful, uplifting and thought-provoking, Auteuil has created a quiet masterpiece; do not overlook it.
About The Author