Tinkerbell And The Lost Treasure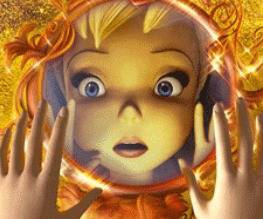 Tinkerbell has managed to get herself some good press in the last couple of years. As far as we remember, Tinkerbell was that tiny, bad tempered cow who basically tried to murder Wendy so that she and Peter could carry on with their strange child/fairy sexual liasons. Apparently, we were wrong. She's a delight, and cute little girls everywhere will rip your face off for suggesting otherwise.
Tinkerbell and The Lost Treasure is the second venture of Tink's solo career. The first, Tinkerbell was a colourful, CGI-tastic look into the world of the fairies before Peter-that bad influence- came along. If your child has ever asked questions like "where do the colour of flowers come from?" or "How does the dew get on the leaves?", this film answers them whimsically, beautifully and thoroughly incorrectly.
Tinkerbell And The Lost Treasure however is actually a much more engrossing- if rather needlessly complicated- story. Tink is summoned by head fairy Queen Clarion to create a one-of-a-kind sceptre that will welcome in the blue harvest; helping to replenish the team's supply of pixie dust. Aided by her bizarrely-named friend Terrance, Tink sets off to do the fairies proud. However, Terrance turns out to be a bit of a nuisance, and ends up breaking basically everything he touches- including the precious sceptre. What will Tink do?
The tale itself is a bit of a slow starter, and considering the target audience you could be forgiven for thinking Disney have gone a little over-the-top with the story's elaborate set up. However, there is no denying that the film itself is absolutely beautiful; the effects are flawless, and the fairy world created will be an absolute joy for any young princess. This is the perfect gift for the little ones, just don't show them Peter Pan straight after. You don't want to ruin Tink's reputation.
Special Features
Backstage Disney
Tinker Bell Comes to Disney World
Deleted Scenes: Includes intros by Director Klay Hall and Producer Sean Lurie
Alternate Scenes
Bonus Short: A magical guide to the Autumn area of Pixie Hollow, led by Terence & Tinker Bell.
"The Gift of a Friend" music video, performed by Disney Channel's Demi Lovato
Previews include Dumbo (70th Anniversary Edition on Bluray in Spring 2010), The Princess & The Frog, Tinker Bell & The Great Fairy Rescue (the next installment!), Blu-ray/High Def Disney movies, Santa Buddies-The Legend of Santa Paws (with Christopher Lloyd), Ponyo, G-Force, Beauty & The Beast (Diamond Edition in High Def), and Disney on Ice-Worlds of Fantasy (including Tinker Bell & Friends)
About The Author