The Circus- Live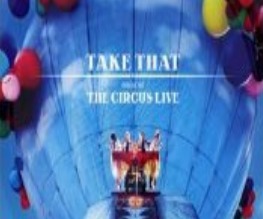 Say what you like about Take That, but there's no denying that they've made one of the most impressive comebacks in music history. It seems like only yesterday Gary Barlow was moodily drawing pictures of Robbie Williams being impaled by a spear (probably), and now, look at them go! Performers of one of the most critically acclaimed tours of recent years, with top tens coming out of their ears and so many chiselled features you could mistake them for action figures of famous rocks.
For die-hard Take That fans (and considering their 15 year break, the age range is frankly terrifying), The Circus- Live makes a marvellous Christmas present. The tour got rave reviews across the board with its mind-blowing special effects, relentlessly energetic circus performers and a live animatronic elephant that sprays water all over the surrounding crowd. The colourful technicalities of the performance are simply jaw-dropping.
It must be especially satisfying for the lads that this was no typical 90's reunion tour. Yes, the old favorites 'Relight My Fire', 'Back for Good' and the rest of their teenage back-catalogue are dusted off and aired with aplomb, but where the boys really come into their own is in showing off their new sound; bouncy pop, chilled out ballads and happy instrumentals; the songs that brought them back from the dead including 'Patience', 'Shine' and 'Greatest Day of My Life'. The boys also play a lot of the instruments themselves live on-stage, adding another string to the bow of not needing Robbie Williams.
Disk Two is a lot more pared down; a Live Abbey Road Session playing much of the same music but without the pesky thousands of girls screaming. Still, they look great; happy and proud and you know what, they actually sound pretty darn good. Which is always nice.
You can't help but be happy for Take That. They come across as unpretentious, down-to-earth happy little chaps, who still can't quite believe they're back in this crazy ol' circus again. Good luck to them, and Robbie, well, there's always that fake-elephant waste that needs clearing up if you fancy a job…
About The Author