The Girl With The Dragon Tattoo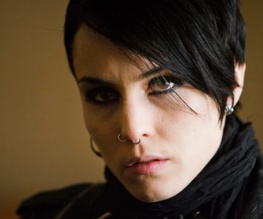 For the second time in as many years, Scandinavian cinema comes up trumps with a stylish and invigorating thriller guaranteed to have audiences teetering excitedly on the edge of their seats. In 2009, we were spellbound by the coming of age story Let The Right One In (Lat Den Ratte Komma In), which put a refreshing yet bloodthirsty new spin on the vampire legend. Now director Neils Arden Oplev introduces a memorably unconventional heroine in The Girl With The Dragon Tattoo .
Not For The Faint-Hearted
[FLOWPLAYER=http://uk.clip-1.filmtrailer.com/1248_9951_a_3.flv,275,180]
Part one of a adaptation of the best-selling novel by Stieg Larsson, The Girl With The Dragon Tattoo is a gripping and suspenseful yarn full of intrigue and deception that pulls no punches with the violence meted out to the morally flawed characters. And that violence is graphic and shocking, including images of torture and sexual abuse that leave you watching the big screen through your fingers. Yet these scenes are never gratuitous and Oplev ensures that every bone-crunching punch is vital to the serpentine narrative that holds our interest for the entire 152 minutes, which passes all too quickly.
Trust No one
Journalist Mikael Blomkvist (Michael Nyqvist) is found guilty of slandering a prominent industrialist and is sentenced to prison. With six months until his incarceration, Mikael accepts a job from the reclusive Henrik Vanger (Sven-Bertil Taube). The old man is still haunted by the disappearance of his daughter and hopes that the discredited journalist will be able to deduce, once and for all, who abducted and possibly killed the teenager. "You don't know my family. You don't know what they're capable of"; the old man warns Mikael. Taking up residence in a cottage on the Vanger estate, the hack begins his investigation and he is soon joined by computer hacker Lisbeth Salander (Noomi Rapace), who has valuable insights to the case. Together, the unlikely sleuths follow a trail of secrets and lies, trusting no one as they search for a killer in their midst.
Dragon – Hollywood-ised?
The Girl With The Dragon Tattoo is an exquisitely paced piece of genre filmmaking, distinguished by the sharpness of Oplev's direction, Nicolaj Arcell and Rasmus Heisterberg's script and fearless performances from the two leads. Nyqvist and Rapace embody their roles without compromise, particularly the latter, who remains a tantalising enigma throughout. "You know everything about me, I know nothing about you," complains Mikael. "That's the way it is," replies Lisbeth.
Following the lead of Let The Right One In, which is being remade in Hollywood as we speak by director Matt Reeves (Cloverfield), The Girl With The Dragon Tattoo is destined for an English language revamp in 2012. It's hard to imagine the same level of brutality sitting comfortably with more saccharine American sensibilities, so see Oplev's film now in its full, uncompromising glory.
About The Author