Win 1 of 3 'The Real Band of Brothers' DVDs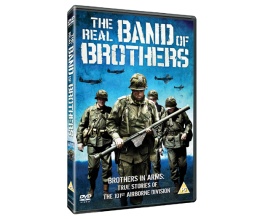 It's fifteen minutes past midnight on June 6th 1944. A C-47 Dakota is humming over the skies of Nazi-occupied France. Perched at the aircraft's open door is Captain Frank Lillyman. He gives the signal and jumps into blackness over Normandy, followed by the six thousand other paratroopers on the first combat mission of the 101st Airborne Division soon to be forever known as "The Screaming Eagles".
This powerful documentary retraces the complete history of a legendary group of warriors. Relive the do-or-die missions of a fighting force that played a key role from World War II through to Vietnam.
The Real Band of Brothers DVD features dramatic interviews with members of the 101st and rare footage from the Division's own film archives. It's an action-packed salute to the men who took to the skies in the name of freedom.
The Real Band of Brothers DVD release date: October 4 2010.
ANSWER THIS SIMPLE QUESTION TO ENTER
What was the nickname of the 101st Airborne Division in WWII?
1. The Screaming Eagles
2. The Screaming Meemies
3. Eduard Munch's The Scream
HOW TO ENTER THE DVD COMPETITION
Simply email your answer to [email protected]
Please include your NAME and ADDRESS – otherwise we can't send you your prize.
Please put VIETNAM in the subject title.
Good luck!
Featured on The Prize Finder – UK Competitions, Loquax Competitions, Competitions Today and Crazy Compers
Competition ends 27 October 2010.
About The Author