Win: Fringe Season 2 Boxset DVD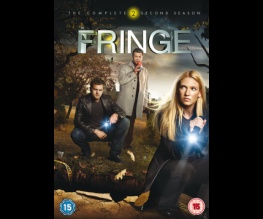 Fringe is a sci-fi TV series made possible by the longevity and success of The X-Files. Like its spiritual predecessor, Fringe Season 2 has the FBI investigating paranormal happenings, busting conspiracies and trying to figure out The Big Picture on behalf of mankind. Competition ends 28 October 2010
What the critics are saying about Fringe:
The New York Times – "the most satisfying, coherent story arc of any science-fiction-flavoured primetime drama."
Rolling Stone – "unfailingly amazing cast and dialogue"
When the unimaginable transpires on screen, you know Fringe creators J.J. Abrams, Alex Kurtzman and Roberto Orci (the team behind Star Trek, Mission: Impossible III and Alias) are behind it. Witness as the impossible becomes possible and worlds literally collide with the release of Fringe season two on 27th September courtesy of Warner Home Video.
Return to explore the boundaries of a mysterious mythology that holds millions of viewers in its hypnotic grasp. Season two of Fringe contains worlds of excitement complete with shape shifters, cryonic heads, belly-dwelling beasts and people who turn to ashes before our eyes. But the overarching narrative takes the FBI's Fringe Division – which includes Special Agent Olivia Dunham (Anna Torv – The Pacific), formerly institutionalized "fringe" scientist Walter Bishop (John Noble – The Lord of the Rings: The Return of the King) and his son, Peter (Joshua Jackson – Dawson's Creek) – through a mind-bending investigation of a parallel reality that threatens to destroy ours.
In its second season, the mythology behind Fringe revealed itself in increasingly more intriguing ways, and this release features all 23 episodes, including The Unearthed Episode starring Kirk Acevedo as Charlie, plus over four hours of dazzling special features.
Fringe Season 2 release date on Blu-Ray and DVD: 27 September 2010.
ANSWER THIS SIMPLE QUESTION TO ENTER
Which of these is an example of Fringe (ie. whacky) science?
1. Taking LSD to communicate with aliens and the dead
2. Studying sunspots on the sun
3. Sticking your neck out to say that yes, gravity exists
HOW TO ENTER THE DVD COMPETITION
Simply email your answer to [email protected]
Please include your NAME and ADDRESS – otherwise we can't send you your prize.
Please put FRINGE in the subject title.
Good luck!
Featured on The Prize Finder – UK Competitions, Loquax Competitions, Competitions Today and Crazy Compers
Competition ends 28 October 2010.
About The Author