Cheat Sheet: Leonardo DiCaprio

Name:

Leonardo Wilhelm DiCaprio

Date of Birth:

11 November, 1974

Place of birth:

Hollywood, California (USA)

Special moves:

Acting, writing, producing, dating leggy blondes, not winning Oscars

Films include:

Django Unchained, Inception, Shutter Island, Revolutionary Road, Titanic, The Beach, The Double
What you probably already know:
Leonardo DiCaprio shot to global acclaim in Baz Luhrmann's wildly popular retelling of Romeo + Juliet (currently back in UK cinemas along with Moulin Rouge), in which he starred as the floppy-haired romantic with a passion for suicide pacts. Not long after that, he found himself stepping aboard James Cameron's award-winning Titanic alongside Kate Winslet and Leo quickly became the poster boy for teenagers everywhere.
However, despite shooting to fame as a romantic lead, there's no denying that Leonardo DiCaprio has, since then, definitely established himself as a serious actor. He's done pretty much everything, everyone and every genre. Think seriously meaty dramas like Revolutionary Road, nail-biting thrillers like Inception, fact-crammed biopics like J. Edgar and even crime dramas like The Departed.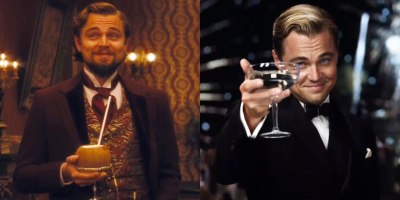 So why is Leonardo DiCaprio such big news at the moment? Well, not only has he just delivered the goods in Tarantino's Oscar nominated Western, Django Unchained, but he's all set to to star in long-anticipated Baz Luhrmann extravaganza The Great Gatsby. Based on the book of the same title, this flick sees Leo take on the titular role of Jay Gatsby – a man seemingly living the perfect nouveau riche existence. But, as time goes by, cracks begin to form, revealing a character torn apart by where obsession, madness and tragedy.
What you probably don't know:
Born in Los Angeles, Leonardo DiCaprio has a pretty intriguing background. His Germanic mother, Irmelin (née Indenbirken), moved to America in the 50s, where she met George DiCaprio, a half-Italian underground comic artist. The pair divorced when he was a year old and Leo lived mostly with his mother in the Los Feliz district. With his mother working several jobs to support the pair of them, it probably came as a relief when Leonardo was spotted by a talent scout – less so when he was fired from children's television series Romper Room for being disruptive at the tender age of five. But it turned out to be their loss, as young Leonardo then went on to star in a number of commercials, educational films and, yes, The New Lassie – despite the fact agents had warned him to change his "too foreign sounding" name to Lenny Williams. Thank GOD he chose to ignore them, eh?
Now that we've got THAT outta the way, let's get real. Leonardo DiCaprio is, perhaps, one of the most influential actors on the Hollywood circuit today – which we doubt would have been quite as likely if he'd taken the role of Anakin Skywalker for Star Wars: Episode II – Attack of the Clones. The universally panned Star Wars prequels might have put a serious dent in the bumper of his career, but, thankfully, the role went to Hayden Christensen instead. Which allowed Leo to escape unscathed and Hayden to be thrown to the baying masses of wronged Star Wars fans like the sacrificial (and wildly untalented) lamb we all know he is.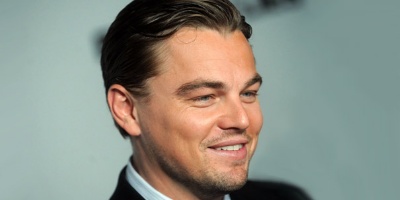 And, while many lesser Leonardo DiCaprio fans will cite Romeo + Juliet or Titanic as his first big break, it was in fact his starring role as Johnny Depp's mentally handicapped brother to Johnny Depp in What's Eating Gilbert Grape that really put him on the map. His sharp, desperate intensity earned him both critical and public acclaim, with an Academy Award nomination serving to prove that young Leo DiCaprio was a serious force to be reckoned with.
"The best thing about acting is that I get to lose myself in another character and actually get paid for it. It's a great outlet. As for myself, I'm not sure who I am. It seems that I change every day."
Too bad he didn't win that hugely coveted golden accolade as, all these years later, Leo's never won an Academy Award. In fact, he's only ever been nominated for an Oscar three times, one of which was for his (frankly best forgotten) performance in Blood Diamond. No wonder Leonardo, after yet another Oscar snub with Django Unchained, has announced his sudden decision to take a "long, long break" from acting:

"I am a bit drained… I would like to improve the world a bit. I will fly around the world doing good for the environment."
Oh yeah, did we not mention that Leonardo DiCaprio was a dedicated environmentalist? Not only does he opt to fly on commercial flights instead of chartering private jets, but he also owns a fleet of electric cars, has installed solar panels on his house, donated huge amounts of money to the Wildlife Conservation Society and has publicly declared global warming to be "the number-one environmental challenge."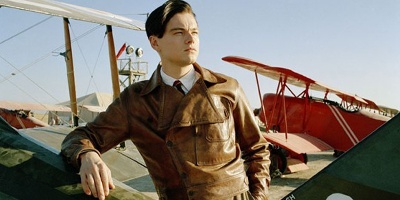 Not just a pretty face then, eh? Although we do appreciate the fact that many Miss World contestants will stand up on their podium to pledge their allegiance to world peace, come hell or high water. But Leo ain't just a smooth talking do-gooder; he also owns his very own production company, which has been busily funding movies such as The Ides Of March (good) and Red Riding Hood (not so good).
Thanks to his heartthrob image and boyish good looks, it'll come as no surprise to hear that Leonardo DiCaprio has absolutely NO trouble whatsoever with the ladies; he's dated everyone from Claire Danes to Bar Rafaeli. However, despite this, he's never had a romantic dalliance with n-screen lover and longtime BFF Kate Winslet – in fact, he recently gave the actress away when she married Ned RockNRoll. Although, in our opinion, Leo should have grabbed Kate, shoved her in a bag and got her the hell outta there. How COULD he let her marry someone with such an awful, awful name?
Leonardo DiCaprio quote:
"Just because you've done a good performance once, doesn't mean you're always going to be good. That's why some of the greatest actors in the world have gone a little bit nuts. They're saying to themselves, 'What happened? You used to love me?' It's an easy trap to fall into. You just have to realize that when you're hot, you're hot, and when you're not, you're not."
What to say about him at a dinner party:
"Incredibly talented, incredibly handsome and incredibly POWERFUL, there's no denying that Leonardo DiCaprio isn't going to be disappearing from the Hollywood circuit anytime soon. His intense emotional style makes him perfect for the conflicted, ill fated characters he so adeptly takes on and, despite never actually winning an Oscar, he's definitely owed at least ten by this point. It's only a matter of time before the Academy recognises him for what he is; a fantastic on-screen presence with the drive and passion to make any audience root for him, regardless of the plot."
What not to say about him at a dinner party:
"Do you think Revolutionary Road is what would have happened if they'd both survived at the end of Titanic?"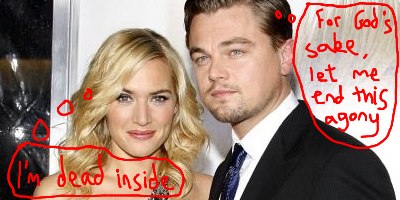 Final thought:
Oscars aren't everything; with iconic directors like Steven Spielberg, Quentin Tarantino, Baz Luhrman and Martin Scorsese falling over themselves to hire the always spectacular DiCaprio to appear in their films, it seems as if Leo's success as an actor is based solely upon pure talent, as opposed to a long string of awards. Plus there's the fact that Leo has two high-profile films opening in 2013 – Scorsese's The Wolf of Wall Street and Baz Luhrmann's The Great Gatsby – which means he'll have two more chances not to be nominated for a shiny gold one come 2014…
Did we miss anything? Drop us a line below with your favourite Leonardo DiCaprio fact!
About The Author