Remembering Richard Griffiths: His top 10 roles

The Easter weekend should have been a time set aside for merriment and scoffing Easter eggs, but the feel-good factor was definitely tainted by the sad death of Richard Griffiths, who passed away on March 28 2013. But, with a four-deacade long career behind him, as well as plenty of memorable movie roles, we've no doubt that this unforgettable star will continue to shine on the screen long after his passing.
It's time to take a moment and remember Richard Griffiths – from his best comedy moments to his most tragic characters, here's the actor's top 10 movie roles of all time:
#10 – Magistrate Philipse, Sleepy Hollow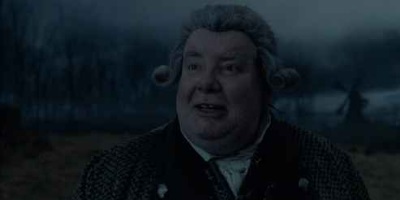 Richard Griffiths' role in Sleepy Hollow is short and sweet, but, as always, ultimately unforgettable. Just like so many others in this movie, Magistrate Philipse attempted to flee from the Headless Horseman of Sleepy Hollow – and failed. Quite horribly, actually. But it was HIS death, witnessed by Johnny Depp's Constable Ichabod Crane, to finally start believing in ghostly vengeance-seeking spectres.
Well you would suddenly find yourself a believer after witnessing THAT now, wouldn't you?
#9 – Jeltz, The Hitchhiker's Guide To The Galaxy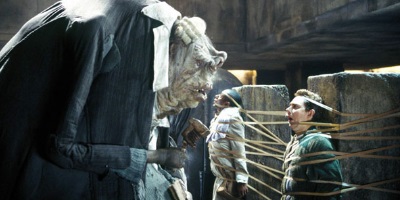 This Vogon Captain is in charge of overseeing the destruction of the Earth, which makes him an oddly sadistic character – yet, ultimately, a very compelling one. After all, who DOESN'T take professional pride in their job? Even if their job is (ahem) demolishing planets? Exactly.
"Apathetic bloody planet. I've no sympathy at all."
It's the sort of thing we can imagine the almighty John Underwood saying, y'know…
#8 – King George II, Pirates of the Caribbean: On Stranger Tides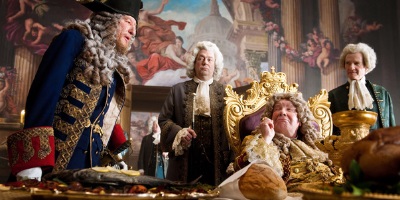 It was inevitable that Richard Griffiths would play a monarch at some point in his career (after all, he IS acting royalty) so we weren't all that surprised by his stint as King George II in the Pirates Of The Caribbean trilogy. And, for all those who don't believe size doesn't matter, how's this for proof; Griffith's mini-cameo as a Kins is the catalyst for the entire (terrible) On Stranger Tides film. He's SO important it's unreal – and he's only in the film for ten minutes or so.
Just check out his gleeful thumbs up at 0.55 – way to go own that role, Griffiths!
#7 – Dr. Albert S. Meinheimer, The Naked Gun 2 1/2: The Smell of Fear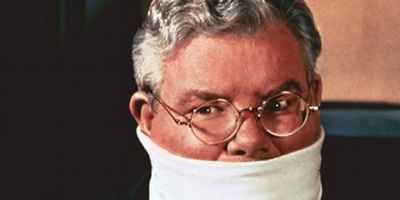 Richard Griffiths has, when you look closely, had plenty of big blockbuster titles hidden up his sleeves. Remember his amazingly hilarious turn as Dr. Albert S. Meinheimer AND his evil double, Earl Hacker?
This film teaches us one VERY important thing; never accept assistance from Leslie Nielsen's bumbling Police Lt. Frank Drebin. Especially if you're a defenceless man in a wheelchair.
#6 – Collins, Gandhi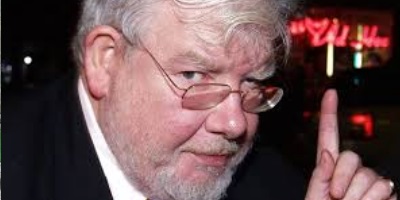 Okay, anyone who has any role in Richard Attenborough's Gandhi, however small, should be proud of it. And Richard Griffiths, in his role as a British journalist in the biopic, is no different. Check it out again and see if you can spot the legendary actor amongst the legendary-actor-film-soup that is the cast…
#5 – Henry Crabbe, Pie In The Sky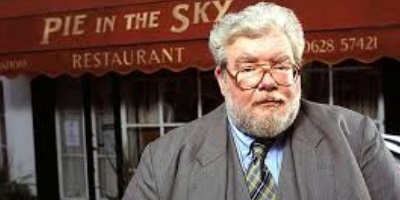 This one's cheating a little, as it's a television rile, but there's no point denying that Richard Griffiths absolutely SHONE as Inspector Henry Crabbe. A disillusioned policeman and pie chef extraordinaire, Griffith's received rave reviews for his part in this British detective drama – probably because the role was created specifically for him.
This show taught us that Prawn Cocktail crisps are the work of the Devil. What more could you ask from any small screen gem?
#4 – Monsieur Frick, Hugo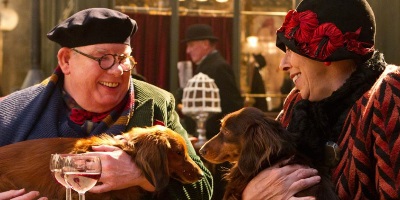 Monsieur Frick, again, plays a tiny part in the overall makeup of Hugo – but, once again, it is another example of Griffiths' stellar acting skills. Monsieur Frick makes up just another one of the people going about their business in a Parisian railway station – but his adorably inept attempts at wooing Frances de la Tour make the background noise of Martin Scorsese's Oscar-winning flick just as entertaining as the main action. Think miniature Dachshunds, croissants and love. THE ULTIMATE TRIUMVIRATE OF JOY!
#3- Hector, The History Boys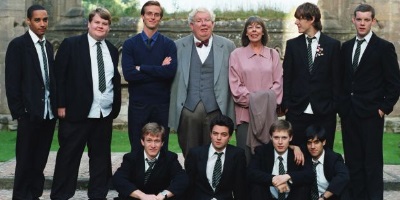 Richard Griffiths is famed for his amazing stage performance of The History Boys – so it makes sense that his movie reprisal of the Tony and Olivier Award-winning role as Hector the teacher made its way into the top three. Directed by Nicholas Hytner, The History Boys follows an unruly class of gifted teenage boys whom Hector is charged with preparing for their entrance exams to get into Oxford and Cambridge. However when he is spotted "fondling" the boys' privates during a motorbike ride home one night, everything changes for both teacher and students…
Strangely poignant, this story sees Griffiths strike a chord with audiences as a lonely, gay man – who, despite his desperately illegal behaviour, still comes across as the sort of tragic character an audience can heap their sympathies upon.
#2 – Uncle Dursley, Harry Potter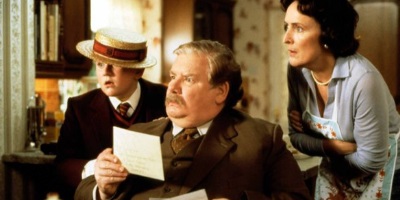 Younger moviegoers will DEFINITELY remember Richard Griffiths as Harry Potter's mean-spirited uncle, Vernon Dursley. Not only does he keep The Boy Who Lived locked up in a cupboard underneath the stairs, but he also attempts to stop him going off to Hogwarts for wizarding school, like, over a hundred times. Sure, he's not a sympathetic character – but his sly sense of humour, desperate attempts to look "normal" in front of his suburban neighbours and grumpy outlook on life definitely make him one of the most memorable faces in the franchise.
#1 – Uncle Monty, Withnail And I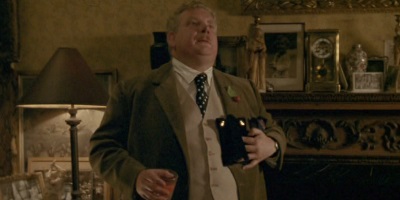 There was no other way this list could end, was there? Richard Griffiths gave an outstanding turn as Uncle Monty in Withnail And I, again playing a poetic homosexual who borderlines on predatory when he demands to "have" young Paul McGann, "even if it must be burglary!". This film is all about Griffiths' glorious voice – whether it's laden with resonant melancholy, petulance or bizarre sensuality ("There is a certain je ne sais quoi about a firm young carrot"), everyone who has ever seen Withnail And I will understand just how very quotable Uncle Monty can be.
Check it out for yourself:
But, despite being a hilarious character, Uncle Monty is also a study in loneliness – just try turning over the words "And soon, I suppose, I shall be swept away by some vulgar little tumour," without feeling your soul shatter a little bit out of sympathy for this isolated middle-aged man. It takes a great actor to lift and break his audience's hearts in a single film – and we guess this proves Richard Griffiths is that great actor.
Which was your favourite movie moment from Richard Griffiths?
About The Author