Top 10 TV shows and their cocktail equivalents

We here at BFF Towers love to serve. We particularly like to serve cocktails with dainty little umbrella sticks, paying homage to the best that television has to offer us. So we've scoured our TV library and partnered up our favourite cocktail recipes and TV shows for you to make, taste and pass out to, with half of it down your chin, whilst watching Tyrion Lannister belittle his nephew and Walter White do more dumb stuff (OH WALTER, WHEN WILL YOU LEARN?). Bottoms up!
Vital ingredients: a strong stomach, probably a bib, a bottle of apricot brandy and a couple maraschino cherries.
#10 – Downton Abbey, Death in the Afternoon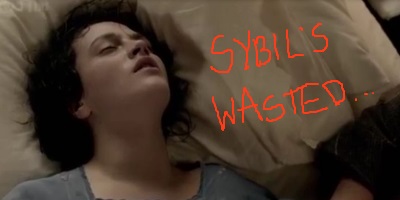 You just never know what's going to happen in a Downton Abbey episode. Never. Scandalous secrets pour out of this decadent programme faster than a dribbling, drunken Mel Gibson. This brilliantly named cocktail was originally named the 'Hemingway Champagne', also invented by the writer himself and so well suited to all of Downton's dastardly deeds.
So, how to make this literary-revered cocktail? Take it away, Hemmingway. "Pour one jigger absinthe into a champagne glass. Add iced champagne until it attains the proper opalescent milkiness. Drink three to five of these slowly." According to previous consumers of Death in the Afternoon, drinking this cocktail produces a 'near-death experience'. So, you know, no rush.
Ingredients:
1 ½ oz absinthe
4 oz champagne
1 strawberry for garnish
#9 – Boardwalk Empire, Martini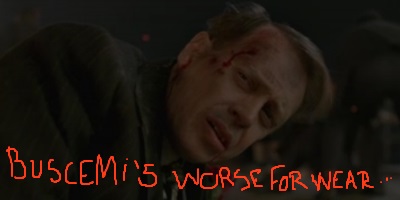 Imagine it. Another Boardwalk Empire season wraps up, Steve Buscemi and Michael Shannon high five, Scorsese laughs and shakes his head (Buscemi and Shannon – always joking about) pouring himself, the cast and crew a Martini. People clink glasses and cheer, Buscemi cracks a joke. Everyone laughs, sipping on their MARTINI.
Wanna feel a part of this family? We sure do, which is why we're already on our fifth Martininnini, cheers!!!
Ingredients:
2 oz gin
1 oz dry vermouth
3 green olives
Stir ingredients and serve in martini glass. Garnish with olives on a stick.
#8 – 30 Rock, Woo Woo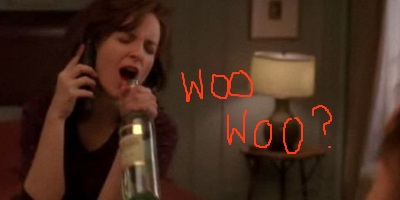 There is no rational explanation for mixing this cocktail and TV programme together – but we figured, as our only comedy TV show on this list (Girls doesn't really count, come on), it makes sense to team this fun and fruity cocktail with a fun and fruity program. It also gives you the chance to shout 'WOO WOO!' at everything funny, 'cause there's a lot of that in 30 Rock. People make jokes and we laugh at the jokes and also Tina Fey. She's cool. She looks like a Woo Woo gal.
Ingredients:
1 ½ oz peach schnapps
1 ½ oz vodka
3 ½ oz cranberry juice
Serve in highball glass over ice, then stir. Or serve in massive jug and proceed to guzzle down.
#7 – Dexter, Bloody Mary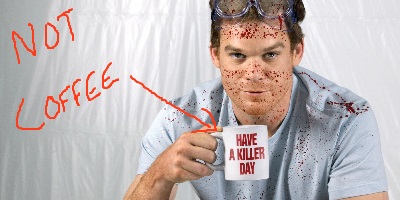 Dexter is a very naughty boy, but, much like Walter White, he starts off doing all that murdering for all the right reasons – at least that's what he thinks. You think you're drinking a Bloody Mary for all the right reasons, but, let's face it, you become full of regrets and along come many more Bloody Marys. So you sit there (or lie there, on the ground, naked) thinking – why am I drinking a mixture of tomato juice, vodka and Worcester sauce? Who came up with this disgusting concoction? Someone messed up, that's who. Dexter is messed up, so drink up. You can also team this drink with True Blood – go on, pretend you're drinking some poor, hapless individual's blood. You need to get out more.
Ingredients:
3 oz tomato juice
1 ½ oz vodka
½ oz lemon juice
1 dash Worcestershire sauce
1 dash hot sauce (if you dare)
1 pinch pepper & salt
1 celery stalk
Pour back and forth in between mixing glasses, then strain into an ice-filled highball glass. Garnish with celery stalk. Bring bucket closer for consequences.
#6 – Dallas / Nashville, Whiskey Sour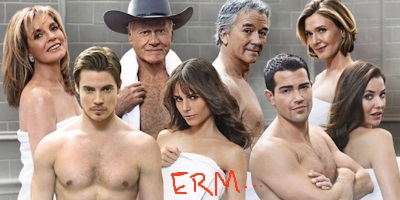 Dallas and Nashville are in different states, yes, well done, but nothing says cowboy culture better than whiskey drinking. And, let's face it, both these programs tend to get a little bit sour – he's cheating on her with her sister, she's shagging his dad along with that minor celebrity, they hate each other because she stole her song – it's all very stressful and, ultimately, sends a lot of the characters drowning and downing their sorrowful lives into a glass of whiskey at the end of the day. Sometimes you don't see it on screen but DOES THAT MATTER? No. They're all secretly drinking whiskey and you should be too. (*Disclaimer: we do not advocate alcoholism in any way).
Ingredients:
2 oz whiskey
½ oz lemon juice
½ tsp sugar
1 cherry
½ lemon slice
Shake the blended ingredients, serve in whiskey glass and garnish with lemon slice and cherry. Then say YEEHAW and swig.
#5 – Girls, Cosmopolitan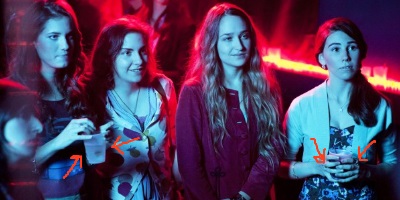 Ah, the Cosmopolitan; timeless, beloved, city-girl favourite. Girls is swiftly becoming the Sex and the City of our generation, or so they say, so what better way to commemorate these young girls' complicated lives than with a classic New York cocktail? Made popular from the original Sex and the City series, sipping on a Cosmopolitan is a sure-fire way to make you feel like a classy, independent working girl with every right to enjoy a pink cocktail every now and then. Boys, don't say you wouldn't either. (Apply same cocktail formula to Gossip Girl, 90210 etc.)
Ingredients:
1 ½ oz vodka
1 oz Cointreau orange liqueur
½ oz lime juice
¼ oz cranberry juice
Orange peel
Shake ingredients with ice cubes, then serve in martini cocktail glass (chill glass beforehand for ice-cold effect). Proceed to gossip with friends.
#4 – Homeland, Long Island Ice Tea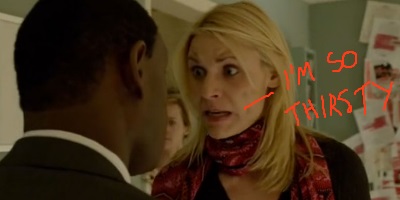 So, here's our thinking. At least two or three times during one episode, one or more Homeland characters are drinking shots. Tequila shots. Rather than advocating doing shots for a full hour (really, we're not that irresponsible) – here's our favourite tequila-based cocktail instead. This sexy highball drink is easy to make and usually looks exactly how you want it to be, which is always pretty satisfying. Include a dainty straw and a little umbrella stick for added va va voom.
Ingredients:
½ oz triple sec
½ oz light rum
½ oz gin
½ oz vodka
½ oz tequila
1 oz dissolved sugar with lemon juice
Cola
1 Lemon wedge
Mix ingredients with ice and give a brisk shake. Pour into highball glass (there should be a fizz at the top), then garnish with lemon. Caution: this drink is actually pretty vile.
#3 – The Walking Dead, Zombie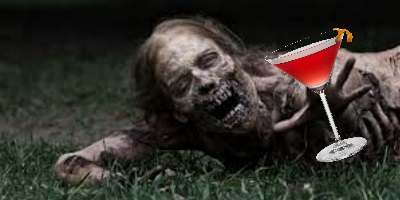 You know the feeling – you're walking around in your post-apocalyptic world, society as you know it has collapsed around you, and you kinda just want to chill and forget that you're one of the only survivors left on earth. We get it. So make yourself a Zombie cocktail – you'll find yourself awash with the notion that zombies aren't actually that terrifying (technically dead, with the inability to run or think for themselves? Please!) and hey, you may even find yourself walking around like one too. Did you know when the Zombie cocktail was originally invented, it was called the Zombie for the zombie-like effect it had on the drinker? FUN FACT #101. Enjooooy.
Ingredients:
½ oz Bacardi rum
1 oz pineapple juice
1 oz orange juice
1 oz lime juice
½ oz apricot brandy
1 tsp sugar
2 oz light rum
2 oz dark rum
Blend all ingredients except Bacardi. Pour into highball glass, float Bacardi rum on top. Garnish with fruit slice, sprig of mint and cherry. Caution: one of these will breed many more.
#2 – Breaking Bad, Blue Hawaiian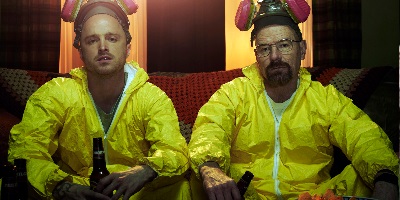 If there's one thing Breaking Bad has taught us, it's that blue meth is not the one. Don't do meth, it's bad, it'll mess you and your family up and depending on how far you are into the series – it'll turn you into a VERY BAD PERSON. On that note, make yourself a harmless Blue Hawaiian. Not only will your taste buds be BLOWN AWAY by the exotic fruitiness that'll make you feel like you're twirling around in a grass skirt alongside a hunky Hawaiian male, but – made and drunk responsibly – it's a much safer equivalent to meth. Even better, you can pretend you're Walter White and make the drink in a lab coat with a gas mask on and a few Bunsen burners set up, but the results will be so much less chaotic and or frightening. Enough of these tasty Blue Hawaiians and your teeth may even fall out just like if you were guzzling blue meth. Win-win for all.
Ingredients:
1 oz blue curacao
1 oz light rum
1 oz coconut cream
2 oz pineapple juice
1 cherry
1 slice of pineapple
Ice, baby
Blend ingredients with ice then pour contents into curvy highball glass. Garnish with pineapple and cherry. Do not inject, sniff or smoke.
#1 – Game of Thrones, Winter Daiquiri
There's nothing you can do to stop it. You and the whole world know it's coming, and there's only one thing you need do in preparation. Make a daiquiri. A tasty daiquiri will get you lots of friends (literally everyone loves a daiquiri) and if you're a Game of Thrones obsessive then this won't do you any harm. Especially if you make like a direwolf and theme it to WINTER! There are all sorts of different drinky delights you can add to this Winter Daiquiri, but we prefer to use some sort of aged rum (Christmas Reserve Spiced Rum, anyone? No? White rum will do) and apricot brandy. YUM. You can also warm it up if you so desire. Winter may be coming, but HOT TODDY OMG.
Ingredients:
2 oz white rum/Christmas Reserve Spiced Rum
¾ oz apricot brandy
½ oz Clementine/tangerine juice
¼ oz lemon juice
Fill cocktail shaker halfway with ice, shake and serve in a chilled cocktail (martini) glass. Heat (less than a minute) for scrumptious hot toddy. Then sit back and wait for Sean Bean to (probably) die on screen in an epic and unbelievably dramatic way.
What would YOUR favourite TV show be as a cocktail? Share your recipes below!
About The Author